Beyond DC Comics – The New 52 August 2013 Releases!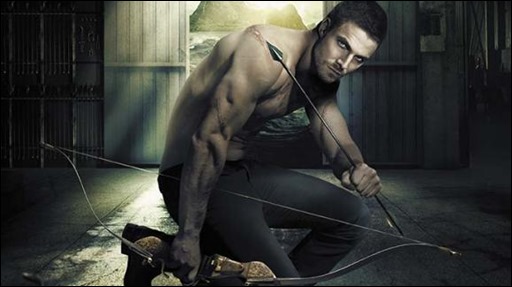 Here are the Beyond DC Comics – The New 52 Group solicitations for August 2013 courtesy of DC Comics.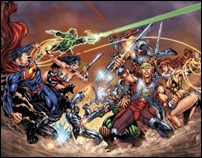 DC UNIVERSE VS. THE MASTERS OF THE UNIVERSE #1
Written by KEITH GIFFEN
Art by DEXTER SOY
Covers by ED BENES
On sale AUGUST 28 • 32 pg, FC, 1 of 6, $2.99 US • RATED T
After narrowly escaping his last battle with He-Man, Skeletor has fled to the most unexpected realm to recover: EARTH! Once there, he sets a plan in motion to siphon off Earth's core magic. Forging an unlikely hunting party, He-Man and company go in search of Skeletor. Finding themselves at odds with the heroes of the DC Universe, He-Man and the Masters of the Universe must find a way to stop Skeletor and his mysterious new master!
This debut issue features two covers by Ed Benes, both available for ordering: one featuring the heroes of the DC Universe, and the other featuring The Masters of the Universe!

ADVENTURES OF SUPERMAN #4
Written by DAN ABNETT, ANDY LANNING, TOM DeFALCO and ROB WILLIAMS
Art by WES CRAIG, PETE WOODS and CHRIS WESTON
Cover by BRUCE TIMM
On sale AUGUST 28 • 40 pg, FC, $3.99 US • RATED T • DIGITAL FIRST
Join comics' finest talents as they celebrate The Man of Steel himself: Superman! This issue features The Last Son of Krypton in timeless tales of truth and justice, featuring appearances by Lex Luthor and Brainiac! Plus: A meteor that's headed straight for Earth!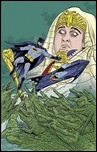 BATMAN '66 #2
Written by JEFF PARKER
Art by RUBEN PROCOPIO and DEAN HASPIEL
Cover by MICHAEL ALLRED
1:25 Variant cover by CULLY HAMNER
On sale AUGUST 21 • 40 pg, FC, $3.99 US • RATED T • DIGITAL FIRST
From the sands of time and halls of higher learning comes one of Batman's deadliest foes: King Tut! Tut returns to assert his royal status and challenge the Dynamic Duo with his most far-reaching plan yet to rule the modern Thebes, Gotham City! Also in this issue, doors smash in and jaws crack from the fists of the newest tough in town: introducing the 1966 incarnation of that reptilian rogue Killer Croc! How can Batman battle this brawny brute?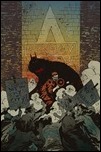 BATMAN: ARKHAM UNHINGED #17
Written by KAREN TRAVISS
Art by CHRISTIAN DUCE
Cover by CHRIS MITTEN
1:10 DC Collectibles Photo Variant Cover
On sale AUGUST 14 • 40 pg, FC, $3.99 US • RATED T • DIGITAL FIRST
With a new curfew in effect, arrests for civil disobedience are taxing the prison system and the GCPD. With street crime still on the rise, Batman is coming up cold in his attempts to find Gotham City's latest bizarre killer, but finds his hands full with petty thugs and corrupt officials.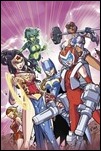 AME-COMI GIRLS #6
Written by JUSTIN GRAY and JIMMY PALMIOTTI
Art by EDUARDO FRANCISCO, HORACIO DOMINGUES and RUBEN GONZALEZ
Cover by JONBOY MEYERS
On sale AUGUST 7 • 40 pg, FC, $3.99 US • RATED T • DIGITAL FIRST
"Earth In Crisis" heralds the beginning of the end of the world as the girls are whisked away to the planet Rann. There they are greeted by Adam Strange and Hawkgirl and told of the imminent threat of the evil Sinestra. It's not just Rann in danger, but the universe itself!

ARROW #10
Written by MARC GUGGENHEIM
Art by MIKE GRELL, XERMANICO and SERGIO SANDOVAL
Photo cover
On sale AUGUST 21 • 40 pg, FC, $3.99 US • RATED T • DIGITAL FIRST
A deadly virus tearing through Starling City leaves the Arrow frantically searching for Patient Zero! Plus, a powerful flashback reveals Diggle's search for his brother's killer—and don't miss Shado's comics debut, as drawn by her creator, Mike Grell!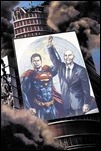 INJUSTICE: GODS AMONG US #8
Written by TOM TAYLOR
Art by JHEREMY RAAPACK, MIKE S. MILLER and TOM DERENICK
Cover by MICO SUAYAN
On sale AUGUST 28 • 40 pg, FC, $3.99 US • RATED T • DIGITAL FIRST
From the ashes of Metropolis comes Superman and the JLA's newest ally: Lex Luthor! Against all odds, he's not only survived but now embraces Superman's goals. Of course, Lex has his own ideas for how to create a better world. The Man of Steel trusts him, but can the rest of his allies be so sure?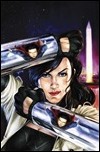 SMALLVILLE SEASON 11 #16
Written by BRYAN Q. MILLER
Art by JORGE JIMENEZ
Cover by CAT STAGGS
On sale AUGUST 14 • 40 pg, FC, $3.99 US • RATED T • DIGITAL FIRST
"Olympus," part 1! Twenty years ago, a young boy washed up on a mysterious island and met a princess. Now, that princess has come to look for the mother who disappeared when she took the boy back. But if Smallville is prepared for strange beings, Washington, DC, certainly is not!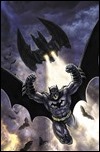 LEGENDS OF THE DARK KNIGHT #11
Written by PAUL JENKINS
Art by OMAR FRANCIA
Cover by GREG LUZNIAK
On sale AUGUST 7 • 40 pg, FC, $3.99 US • RATED T • DIGITAL FIRST
"What Happened Was…" When Calendar Man and Batman battle during a Gotham Knights game, things go very, very wrong. But with everyone in the crowd giving a different eyewitness account, will the GCPD even be able to figure out what happened?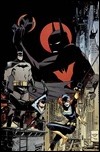 BATMAN BEYOND UNIVERSE #1
Written by KYLE HIGGINS and CHRISTOS N. GAGE
Art by THONY SILAS and IBAN COELLO
Cover by SEAN MURPHY
1:25 Variant cover by RAFAEL ALBUQUERQUE
On sale AUGUST 21 • 48 pg, FC, $3.99 US • RATED T • DIGITAL FIRST
The new series begins here with all-new creative teams and all-new adventure!
Now a freshman at Gotham University, Terry McGinnis's role as Batman threatens his education and his life as a teenager. And when the Mayor is murdered, Terry's life is thrown into even greater turmoil! Meanwhile, the Justice League must stop Superman when his powers rage out of control!
L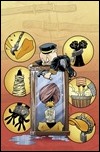 OONEY TUNES #214
Written by SCOTT GROSS
Art and cover by SCOTT GROSS
On sale AUGUST 7 • 32 pg, FC, $2.99 US • RATED E
Much has been made of the famed magician and escape artist Harry Houdini, but less is known of his diminutive waterfowl understudy, The Great Houducky. This is his story. It's also a Daffy tale of derring-do, escape and adventure!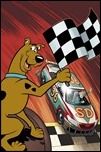 SCOOBY-DOO, WHERE ARE YOU? #36
Written by SHOLLY FISCH
Art and cover by FABIO LAGUNA
On sale AUGUST 7 • 32 pg, FC, $2.99 US • RATED E
Terry the Terror is terrorizing the pit crew at the big races! Will Scooby and the gang figure out what this monstrous apparition wants…or will their day at the races end in disaster?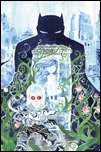 BATMAN: LI'L GOTHAM #5
Written by DEREK FRIDOLFS and DUSTIN NGUYEN
Art and cover by DUSTIN NGUYEN
On sale AUGUST 14 • 32 pg, FC, $2.99 US • RATED E
April showers bring…Mr. Freeze? When Victor is granted his freedom from Arkham Asylum, he is welcomed back into Gotham City. But that will quickly turn into a cold reception if Batman can't stop his latest scheme. And then, it's Cinco de Madness as Damian and friends take their battle to the seedy underworld of street racing, cage wrestling and back alley taco-eating competitions! Will Batman arrive before the horchata overflows on our Gotham City boys and girls?
MAD #523
Written and illustrated by THE USUAL GANG OF IDIOTS
On sale AUGUST 28 • 56 pg, FC, $5.99 US
Feeling the heat this summer? Why not cool down with a brisk, refreshing MAD?
HE-MAN AND THE MASTERS OF THE UNIVERSE #5
Written by KEITH GIFFEN
Art by POP MHAN
Cover by ED BENES
On sale AUGUST 21 • 32 pg, FC, $2.99 US
Despara's origin revealed! Plus, Hordak tells a shocking story that will change her world forever!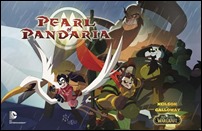 WORLD OF WARCRAFT: PEARL OF PANDARIA TP
Written by MICKY NEILSON
Art and cover by SEAN "CHEEKS" GALLOWAY
On sale SEPTEMBER 11 • 128 pg, FC, 10.875" x 7.0625", $16.99 US
In this original graphic novel published in a landscape format, meet the Pandaren, one of the most beloved (and mysterious) races in World of Warcraft! The tale introduces Li Li Stormstout, a precocious young student who lives atop a giant turtle called Shen-zin Su. Like the rest of the wandering island's pandaren, Li Li comes from a line of adventurers who left their homeland long ago to explore the world…and she wants nothing more than to chase that dream. But when Li Li runs away to find her famous uncle Chen, how will she survive Azeroth's perils?
– the Comic Book Critic