Superman December 2012 Releases!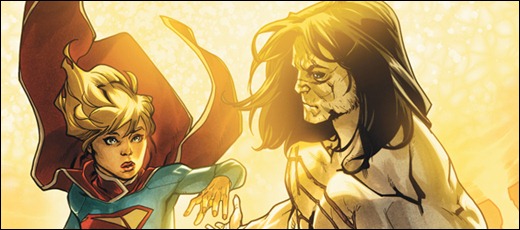 Here are the December 2012 Superman Group solicitations courtesy of DC Comics.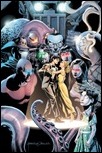 ACTION COMICS #15
Written by GRANT MORRISON
Backup story written by SHOLLY FISCH
Art by RAGS MORALES and MARK PROPST
Backup story art by CHRIS SPROUSE and KARL STORY
Cover by RAGS MORALES
Variant cover by FIONA STAPLES
1:100 B&W Variant cover by RAGS MORALES
On sale DECEMBER 5 • 40 pg, FC, $3.99 US • RATED T
Combo pack edition: $4.99 US
• Superman is on trial for his life – and the jury is the Anti-Superman Army! It's the ultimate villains springing the ultimate trap at the end of time itself!
• And the mystery that has built since issue #1 is resolved as the Little Man's true identity is revealed – with grave consequences!
• Plus, in the backup feature: A crucial piece of information is revealed!
This issue is also offered as a combo pack edition with a redemption code for a digital download of this issue.
---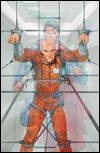 SUPERMAN #15
Written by SCOTT LOBDELL
Art and cover by KENNETH ROCAFORT
1:25 Variant cover by KENNETH ROCAFORT
On sale JANUARY 2 • 32 pg, FC, $2.99 US • RATED T
• The "H'EL ON EARTH" crossover event continues!
• Superman, Supergirl and Superboy are together at last! And it's a disaster!
• Superman and Supergirl have very different opinions on how to confront H'EL! And in order to stop a Kryptonian, Kal-El must seek help from Lex Luthor, the one person who does nothing but think about that!
---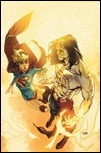 SUPERGIRL #15
Written by MICHAEL GREEN and MIKE JOHNSON
Art and cover by MAHMUD ASRAR
On sale DECEMBER 19 • 32 pg, FC, $2.99 US • RATED T
• The "H'EL ON EARTH" crossover event continues!
• H'el takes Supergirl on a whirlwind tour of Earth and even space, all in an attempt to sway her to his cause.
• On the surface of the sun, Supergirl must make a choice: Earth or H'el?
---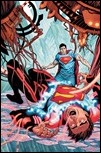 SUPERBOY #15
Written by TOM DeFALCO
Art R.B. SILVA and ROB LEAN
Cover by TYLER KIRKHAM and BATT
On sale DECEMBER 12 • 32 pg, FC, $2.99 US • RATED T
• The "H'EL ON EARTH" crossover event continues!
• The moment is finally here: Superboy and Superman, face to face!
• With Superboy dying from the wounds H'el inflicted on him, they may not have time for a heart-to-heart!
---
– The Comic Book Critic