Vertigo & Misc. February 2013 Releases!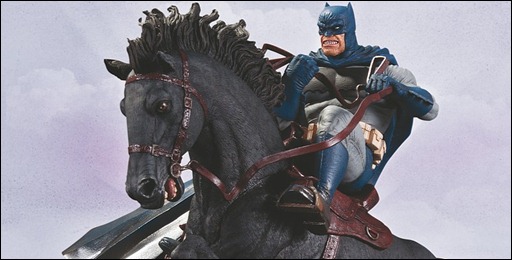 Here are the February 2013 Vertigo Group & miscellaneous solicitations courtesy of DC Comics.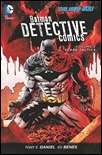 BATMAN: DETECTIVE COMICS VOL. 2 — SCARE TACTICS HC
Written by TONY S. DANIEL and JAMES TYNION IV
Art by TONY S. DANIEL, ED BENES, JULIO FERREIRA, EDUARDO PANSICA, SZYMON KUDRANSKI, ROMANO MOLENAAR, PERE PEREZ, SANDU FLOREA, JOEL GOMEZ, ROB HUNTER and RICHARD FRIEND
Cover by TONY S. DANIEL
On sale APRIL 3 • 232 pg, FC, $29.99 US
• In this second New 52 collection, Batman must face the madness of the Mad Hatter, and then take on the Talons of the Court of Owls! But even if he survives that, he must face a whole new set of fears when the Scarecrow returns! Can the Dark Knight overcome the terror the Scarecrow brings? And explore the bizarre similarities between these two enemies and how the idea of fear has shaped their lives!
• Collects DETECTIVE COMICS #8-12 and #0, and DETECTIVE COMICS ANNUAL#1.
---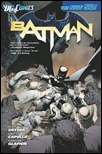 BATMAN VOL. 1: THE COURT OF OWLS TP
Written by SCOTT SNYDER
Art by GREG CAPULLO and JONATHAN GLAPION
Cover by GREG CAPULLO
On sale MARCH 20 • 176 pg, FC, $16.99 US
• In this new trade paperback, a series of brutal murders rocks not only Gotham City to its core but also the Caped Crusader himself when the prime suspect is one of Batman's closest allies: Dick Grayson!
• Collects BATMAN #1-7!
---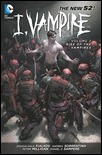 I, VAMPIRE VOL. 2: RISE OF THE VAMPIRES TP
Written by JOSHUA HALE FIALKOV and PETER MILLIGAN
Art by ANDREA SORRENTINO, ADMIRA WIJAYA and DANIEL SAMPERE
Cover by CLAYTON CRAIN
On sale MARCH 13 • 192 pg, FC, $16.99 US
• In this second New 52 collection, Andrew Bennett finds himself in a place he never thought he'd reach during his countless decades walking the Earth. But his absence on Earth signals a deadly loss of order in the vampire hierarchy, as the savage attack on humanity he's long feared looks like it's coming to pass. Plus, the vampire pilgrimage begins—but along the way, they encounter an ancient enemy: the Van Helsings!
• Collects I, VAMPIRE #7-12 and JUSTICE LEAGUE DARK #7-8.
---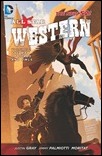 ALL-STAR WESTERN VOL. 2: THE WAR OF LORDS AND OWLS TP
Written by JUSTIN GRAY and JIMMY PALMIOTTI
Art by MORITAT, PATRICK SCHERBERGER, DAN GREEN, TERRY AUSTIN and JOSE LUIS GARCIA-LOPEZ
Cover by LADRONN
On sale MARCH 6 • 192 pg, FC, $16.99 US
• In this second New 52 collection, Jonah Hex tracks the kidnapper Thurston Moody to New Orleans, then must infiltrated the ranks of the anarchist group August 7, dedicated to eliminating the immigrant population of New Orleans. With Dr. Arkham in jail and his companions Hawkeye and Cinnamon nowhere to be found, things can only get worse for Hex when The Court of Owls reveals its plan to lay siege to Gotham City.
• Plus: Don't miss the backup features starring Nighthawk, Cinnamon and
Bat Lash!
• Collects ALL-STAR WESTERN #7-12.
---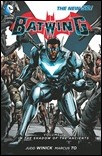 BATWING VOL. 2: IN THE SHADOWS OF THE ANCIENTS TP
Written by JUDD WINICK
Art by DUSTIN NGUYEN, MARCUS TO and others
Cover by MARCUS TO
On sale MARCH 27 • 160 pg, FC, $14.99 US
• This second Batwing colllection follows Batwing to the streets of Gotham City as he hunts for Massacre. Then, Batwing must confront The Court of Owls!
• Collects BATWING #7-12 and #0.
---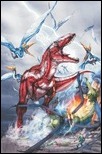 G.I. COMBAT VOL. 1: THE WAR THAT TIME FORGOT TP
Written by J.T. KRUL, JUSTIN GRAY, JIMMY PALMIOTTI, PETER J. TOMASI
Art by ARIEL OLIVETTI, HOWARD CHAYKIN and others
Cover by BRETT BOOTH
On sale MARCH 27 • 240 pg, FC, $19.99 US
• Don't miss these tales of modern-day soldiers battling pterodactyls and a Tyrannosaurus rex! Plus: The Unknown Soldier returns! And the Haunted Tank breaks out of ARGUS's Black Room!
• Collects G.I. COMBAT #0-7.
---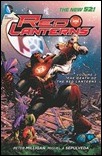 RED LANTERNS VOL. 2: THE DEATH OF THE RED LANTERNS TP
Written by PETER MILLIGAN
Art by ANDRES GUINALDO, JORGE
JIMENEZ, MARK IRWIN, TOMAS GIORELLO and MIGUEL SEPULVEDA
Cover by MIGUEL SEPULVEDA
On sale MARCH 6 • 144 pg, FC, $16.99 US
• In this second New 52 volume, Atrocitus, the creator of the Red Lanterns, is haunted by his past. Abysmus has been freed from his imprisonment and intends to destroy not only the Red Lanterns, but all life. Then, Atrocitus must face a civil war led by Bleez. Did Bleez free Abysmus in an effort to topple Atrocitus? And is the new human Red Lantern Jack Moore the key to stopping Abysmus?
• Collects RED LANTERNS #8-12 and STORMWATCH #9.
---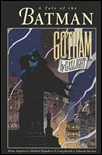 BATMAN: GOTHAM BY GASLIGHT TP NEW EDITION
Written by BRIAN AUGUSTYN
Art by MIKE MIGNOLA, P. CRAIG RUSSELL and EDUARDO BARRETTO
Cover by MIKE MIGNOLA and P. CRAIG RUSSELL
On sale MARCH 6 • 112 pg, FC, $12.99 US
• A new edition of the classic starring the Victorian-era!
• Includes GOTHAM BY GASLIGHT and MASTER OF THE FUTURE, tales that pit The Dark Knight against Jack the Ripper and a death dealer from the skies over Gotham City!
---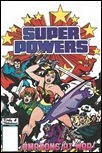 THE JACK KIRBY OMNIBUS VOL. 2 HC
Written by JACK KIRBY, JOE SIMON, MICHAEL FLEISCHER, JOEY CAVALIERI and others
Art by JACK KIRBY, JOE SIMON, MIKE ROYER, WALLACE WOOD and others
Cover by JACK KIRBY
On sale APRIL 17 • 624 pg, FC, $39.99 US
• Collecting more of Jack Kirby's epic tales from the 1970s and 1980s starring The Sandman, The Justice League, Atlas and many more.
• Collects BLACK MAGIC #1-9, 1ST ISSUE SPECIAL #1, 5 and 6, KUNG FU FIGHTER #3, THE SANDMAN #1-6, DC COMICS PRESENTS #84, SUPER POWERS VOL.1 #1-5 and SUPER POWERS VOL. 2 #1-6, and KOBRA #1.
---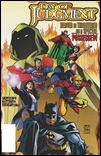 DAY OF JUDGMENT TP
Written by GEOFF JOHNS and SCOTT BEATTY
Art by MATT SMITH, STEVE MITCHELL, CHRISTOPHER JONES, JOHN McCREA and ANDREW CHIU
Cover by MATT SMITH and STEVE MITCHELL
On sale MARCH 20 • 160 pg, FC, $14.99 US
• For the first time, DC collects DAY OF JUDGMENT, one of the first epics from superstar writer Geoff Johns, originally published in 1999! In the depths of Hell, the greatest supernatural power to challenge the JLA — the fallen angel Azmodel, suffers under imprisonment by Neron. But then, the Demon Etrigan offers Azmodel his freedom — and more! As humanity faces the ultimate threat and people's long-lost loves and hates return from the dead to torment them amid demonic hellfire, DC's greatest heroes must wage a war on three fronts!
• Collects Collects DAY OF JUDGMENT #1-5 and DAY OF JUDGMENT SECRET FILES.
---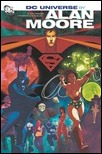 THE DC UNIVERSE BY ALAN MOORE TP
Written by ALAN MOORE
Art by JIM APARO, PARIS CULLINS, GEORGE FREEMAN, DAVE GIBBONS, KLAUS JANSON, KEVIN O'NEILL, JOE ORLANDO, GEORGE PEREZ, KURT SCHAFFENBERGER, CURT SWAN, RICK VEITCH, AL WILLIAMSON, BILL WILLINGHAM, JIM BAIKIE, MICHAEL LOPEZ, AL RIO, TREVOR SCOTT and more
Cover by FRAZER IRVING
On sale MARCH 27 • 464 pg, FC, $24.99 US
• Alan Moore's work on some of DC's greatest characters is a benchmark for great stories with fresh approaches to iconic characters.
• Now available in trade paperback, this volume includes ACTION COMICS #583, BATMAN ANNUAL #11, DC COMICS PRESENTS #85, DETECTIVE COMICS #549-550, GREEN LANTERN #188, THE OMEGA MEN #26-27, SECRET ORIGINS #10, SUPERMAN #423, TALES OF THE GREEN LANTERN CORPS ANNUAL #2 & 3, SUPERMAN ANNUAL #11, VIGILANTE #17-18, VOODOO #1-4 and DEATHBLOW: BY BLOWS #1-3!
---

MARSHAL LAW: THE DELUXE EDITION HC
Written by PAT MILLS
Art and cover by KEVIN O'NEILL
On sale APRIL 17 • 480 pg, FC, 7.0625" x 10.875", $49.99 US • MATURE READERS
• MARSHAL LAW is back in a new, deluxe edition hardcover! This futuristic law official is charged with policing super-heroes gone rogue by any means necessary, all while fighting his own self-hatred for being the thing he hates most: a super-hero.
• Featuring art by Kevin O'Neill, illustrator of THE LEAGUE OF EXTRAORDINARY GENTLEMEN, the centerpiece of this massive volume is the six-part tale in which Marshal Law hunts down the Sleepman, a serial killer who is somehow connected to the popular hero known as The Public Spirit.
• Collects MARSHAL LAW #1-6, MARSHAL LAW: FEAR AND LOATHING, MARSHAL LAW TAKES MANHATTAN, MARSHAL LAW: KINGDOM OF THE BLIND and MARSHAL LAW: THE HATEFUL DEAD, MARSHAL LAW: SUPER BABYLON and MARSHAL LAW: SECRET TRIBUNAL #1-2.
---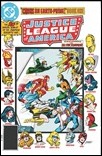 CRISIS ON MULTIPLE EARTHS VOL. 6 TP
Written by GERRY CONWAY and ROY THOMAS
Art by GEORGE PEREZ, KEITH POLLARD, DON HECK and others
Cover by GEORGE PEREZ
On sale MARCH 20 • 208 pg, FC, $19.99 US
• The JLA meet the JSA in this new collection in which the teams face Gorilla Grodd and the Secret Society of Super-Villains and battle the Crime Syndicate and the the Crime Champions of Earth-1.
• Collects JUSTICE LEAGUE OF AMERICA #195-197, 207-209 and 219-220.
---

THE STARMAN OMNIBUS VOL. 3 TP
Written by JAMES ROBINSON
Art by TONY HARRIS, GENE HA, PHIL
JIMENEZ, J.H. WILLIAMS III and others
Cover by TONY HARRIS
On sale MARCH 27 • 432 pg, FC, $29.99 US
• In this third volume Opal City is terrorized by Dr. Pip, an eccentric bomber. Plus, Starman teams up with Batman to save the life of Solomon Grundy.
• Collecting STARMAN #30-38, STARMAN ANNUAL #2 and STARMAN SECRET FILES #1.
---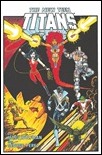 THE NEW TEEN TITANS OMNIBUS VOL. 3 HC
Written by MARV WOLFMAN and GEORGE PEREZ
Art by GEORGE PEREZ, ROMEO TANGHAL, DAN JURGENS, MIKE DeCARLO, STEVE RUDE, AL GORDON, CARMINE INFANTINO, RICH BUCKLER, BOB SMITH, DICK GIORDANO, RON RANDALL, CHUCK PATTON and JOSE LUIS GARCIA-LOPEZ
Cover by GEORGE PEREZ
On sale APRIL 3 • 792 pg, FC, $75.00 US
• In this third massive collection of the hit 1980s series from the acclaimed team of writer Marv Wolfman and artist George Perez, the Teen battle the villainy of H.I.V.E., face the evil Dr. Light, witness the trial of Deathstroke, and try to rescue the dark hero known as Raven from her own father, Trigon.
• Collects TALES OF THE TEEN TITANS #45- 61 and 66-67, NEW TEEN TITANS #38, NEW TEEN TITANS #1-6 and SECRET ORIGINS ANNUAL #3.
---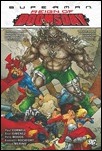 SUPERMAN: THE REIGN OF DOOMSDAY TP
Written by PAUL CORNELL, DAMON LINDELOF, PAUL DINI, GEOFF JOHNS, DAVID GOYER, RICHARD DONNER and others
Art by PETE WOODS, JESUS MERINO, KENNETH ROCAFORT, RAGS MORALES, DAN JURGENS, ARDIAN SYAF, GARY FRANK, JAMAL IGLE, RYAN SOOK and others
Cover by KENNETH ROCAFORT
On sale MARCH 6 • 200 pg, FC, $16.99 US
• Doomsday is back for another round with The Man of Steel.
• Collected from ACTION COMICS #900-904!
---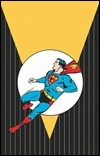 SUPERMAN: THE MAN OF TOMORROW ARCHIVES VOL. 3 HC
Written by OTTO BINDER, JERRY SIEGEL and others • Art by
WAYNE BORING, CURT SWAN and others • Cover by CURT SWAN
Advance solicit • On sale JULY 24 • 408 pg, FC, $75.00 US
• In these tales from the 1960s, Superman meets a super outlaw from Krypton, fights Titano the Super-Ape, battles Lex Luthor and more!
• Collects SUPERMAN #132-139 and stories from ACTION COMICS #255-266.
---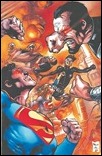 SUPERMAN VS. ZOD TP
Written by RICHARD DONNER, GEOFF JOHNS and others
Art by RAGS MORALES, CURT SWAN and others
Cover by EDDY BARROWS and J.P. MAYER
On sale MARCH 13 • 144 pg, FC, $12.99 US
• Collecting Superman's greatest battles General Zod for the first time! First, Zod meets Superboy and the criminals of the Phantom Zone. Then, Zod battles Superman in tales from the 1980s. Plus, Geoff Johns Richard Donner look at the roots of Zod's treachery in Krypton's past.
• Collects stories from ADVENTURE COMICS #283, ACTION COMICS #473, 548- 549, DC COMICS PRESENTS #97 and ACTION COMICS ANNUAL #10.
---

SHOWCASE PRESENTS: SUPERMAN FAMILY VOL. 4 TP
Written by OTTO BINDER, ROBERT BERNSTEIN, JERRY SIEGEL and others
Art by CURT SWAN, KURT SCHAFFENBERGER and others
Cover by CURT SWAN and STAN KAYE
On sale MARCH 20 • 520 pg, B&W, $19.99 US
• In these 1960s stories, Jimmy Olsen becomes "The Giant Turtle Man of Metropolis" and more. Plus, Lois Lane marries Astounding Man!
• Collecting SUPERMAN'S PAL JIMMY OLSEN #45-53 and SUPERMAN'S GIRL FRIEND LOIS LANE #17-26.
---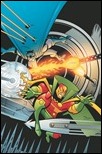 THE ALL-NEW BATMAN: THE BRAVE AND THE BOLD — SMALL MIRACLES TP
Written by SHOLLY FISCH
Art by ROBERT POPE, SCOTT McRAE, RICK
BURCHETT, STEWART McKENNY and DAN DAVIS
Cover by RICK BURCHETT and DAN DAVIS
On sale MARCH 13 • 128 pg, FC, $12.99 US
• This all-ages title guest-stars DC Super Heroes including Superman, Wonder Woman, The Flash, Martian Manhunter and more!
• Collects BATMAN: THE BRAVE AND THE BOLD #15, 17 and THE ALL NEW BATMAN: THE BRAVE AND THE BOLD #13-16.
---
MAD #520
Written and illustrated by THE USUAL GANG OF IDIOTS
On sale FEBRUARY 20 • 56 pg, FC, $5.99 US
Winter blahs got you down? Try MAD — it's better than a poke in the eye with a sharp stick!
---
DJANGO UNCHAINED #4
Based on the screenplay by QUENTIN TARANTINO
Art by R.M. GUERA and JASON LATOUR
Cover by FRANK QUITELY
1:25 Variant cover by IVAN REIS
On sale FEBRUARY 27 • 48 pg, FC, 4 of 5, $4.99 US • MATURE READERS
Retailers: This issue will ship with two covers. Please see the order form for more information.
• The adaptation of the screenplay from award winning director Quentin Tarantino's latest film continues!
• Django and Dr. Schultz take a big risk against impossible odds inside the stronghold of slave owner Calvin Candie.
• This is the only way to read the entire, uncut story, which contains scenes that may not appear in the final film!
---
FAIREST #12
Written by LAUREN BEUKES
Art and cover by INAKI MIRANDA
Cover by ADAM HUGHES
On sale FEBRUARY 6 • 32 pg, FC, $2.99 US • MATURE READERS
Rapunzel discovers that bloody vengeance will come back to haunt you. Frau Totenkinder and Bigby get caught in a war between Tomoko's yakuza gangsters and Katagiri's not-so-unassuming sumo school. There's murder, mayhem, terrible compromises and unholy hairballs deep in the heart of a dark forest and in the frenetic streets of Tokyo.
---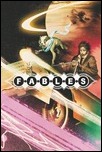 FABLES #126
Written by BILL WILLINGHAM
Art by MARK BUCKINGHAM and STEVE LEIALOHA
Cover by JOAO RUAS
On sale FEBRUARY 20 • 32 pg, FC, $2.99 US • MATURE READERS
Marriage and family are the most important components of the community. It's in the book. Go ahead and look it up yourself. The official charter of Fabletown laws hold little the government as a whole can do to interfere in family matters. Mostly this is a good thing. Once in a great while—like in this issue, for instance—it isn't. Also, Bigby and Stinky continue their road trip, trying to catch the hint of a scent of the missing cubs.
---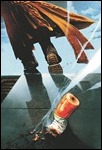 HELLBLAZER #300
Written by PETER MILLIGAN
Art by GIUSEPPE CAMUNCOLI and STEFANO LANDINI
Cover by SIMON BISLEY
On sale FEBRUARY 20 • 48 pg, FC, $4.99 US • MATURE READERS • FINAL ISSUE
It's the heart-rending conclusion of "DEATH AND CIGARETTES"—and the end of Vertigo's longest running series. John Constantine has escaped, cheated, narrowly avoided and even reversed death on multiple occasions over the past 25 years. Now, we will test whether the old boy has one more second chance in him. Don't miss this epic, oversized special issue celebrating everything that makes John Constantine so bloody unique.
---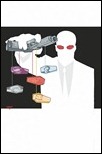 100 BULLETS DELUXE EDITION BOOK FOUR HC
Written by BRIAN AZZARELLO
Art by EDUARDO RISSO
Cover by DAVE JOHNSON
On sale APRIL 10 • 512 pg, FC, 7.0625" x 10.875", $49.99 US • MATURE READERS
In this new deluxe edition collecting 100 BULLETS #59-80, the Houses of the Trust are warily circling each other, looking for the right angle to take in their impending war, while the remaining Minutemen continue to choose sides—and set up their own battle plans. Then, following Lono's ascension to warlord for the houses of the Trust, players on both sides ready themselves for the endgame of their private war.
---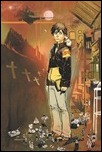 JOE THE BARBARIAN TP
Written by GRANT MORRISON
Art and cover by SEAN MURPHY
On sale MARCH 6 • 224 pg, FC, $19.99 US • MATURE READERS
Joe is an imaginative eleven-year-old boy. He can't fit in at school. He's the victim of bullies. His dad died overseas in the Iraq war. He also suffers from Type 1 diabetes. One fateful day, his condition causes him to believe he has entered a vivid fantasy world in which he is the lost savior—a fantastic land based on the layout and contents of his home. His desperate attempts to make it out of his bedroom transform into an incredible, epic adventure through a bizarre landscape of submarine pirate dwarves, evil Hell Hounds, Lightning Lords and besieged castles. But is his quest really just an insulin-deprived delirium—from which he can die if he doesn't take his meds—or something much bigger? Collecting the 8-issue miniseries!
---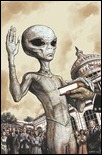 SAUCER COUNTRY #12
Written by PAUL CORNELL
Art and cover by RYAN KELLY
On sale FEBRUARY 13 • 32 pg, FC, $2.99 US • MATURE READERS
It's the run-up to election day, and Arcadia is racing to close the gap on her Republican rival. But meanwhile Prof Kidd's life is falling apart, as he discovers the secret of the Pioneer Couple. Secrets are revealed, an election is won and lost, and several steps toward the truth are taken in Part One of the three-part tale "President's Day."
---
THE UNWRITTEN VOL. 7: THE WOUND TP
Written by MIKE CAREY
Art by PETER GROSS and RUFUS DAYGLO
Cover by YUKO SHIMIZU
On sale MARCH 20 • 144 pg, FC, $14.99 US • MATURE READERS
In this volume collecting THE UNWRITTEN #36-41, the War of Words is over, but the real world and the fictional world are both in turmoil, and the damage seems to be spreading. When a rash of mysterious disappearances catches the eye of young Australian detective Didge Patterson, it becomes apparent that the cult known as The Church of Tommy is involved. Can Tom Taylor heal "The Wound" before the real and fictional worlds crumble?
---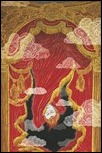 THE UNWRITTEN #46
Written by MIKE CAREY
Art by PETER GROSS and DEAN ORMSTON
Cover by YUKO SHIMIZU
On sale FEBRUARY 27 • 32 pg, FC, $2.99 US • MATURE READERS
Richie continues to help Didge with her inquiries, and the Corpse Harvest Killer strikes again—against himself! Enter Madame Rausch, with a surefire plan for stopping the rising body count. All that's left to settle now is her price…
---

BATMAN STATUE
BY SEAN "CHEEKS" GALLOWAY
Designed By Sean "Cheeks" Galloway
SCULPTED BY IRENE MATAR
Fan-favorite Sean "Cheeks" Galloway displays his unique artistic vision with this new statue from the Batman Black and White line of collectibles.
Using the monochromatic tones synonymous with the series, Galloway's Dark Knight is as iconic as it is unique–making this statue a must-have for Bat-fans everywhere.
Statue measures 7.75" high x 5.75" wide x 5.5" deep.
$79.95 US • On Sale March 2013
*Allocations May Occur
---


BATMAN: ARKHAM CITY: SERIES 4 ACTION FIGURES
Deadshot – 6.7" h
Nightwing – 6.65" h
Batman – 6.75" h
Talia – 6.5" h
Set inside the heavily fortified walls of a


sprawling district in the heart of Gotham City, it's filled with the most murderous villains from DC Comics' Batman universe. But Batman is ready to tackle it with all-new gadgets and his greatest—and most dangerous—allies. Which is good, because he'll need all the help he can get for his journey into the darkest corners of Gotham City. Based on the blockbuster video game published by Warner Bros. Interactive Entertainment, developed by Rocksteady Studios, and licensed by DC Entertainment.
* Action Figures * $22.95 US Each * On sale March 2013
*Allocations May Occur
---

BATMAN: THE DARK KNIGHT RETURNS: A CALL TO ARMS STATUE
Sculpted by Phil Ramirez
A RIDE TO REMEMBER!
Mounted on a horse as black as the night he defends, the Caped Crusader rallies the troops in this new statue inspired by Frank Miller's legendary work, BATMAN: THE DARK KNIGHT RETURNS. This skillfully designed piece is as detailed as it is unique, so order now before it sell out!
Measuring approximately 14.5" high x 12.5" wide x 10" deep, his hand-painted, cold-cast porcelain statue is packaged in a 4-color box.
$399.95 US • On Sale April 2013
*Allocations May Occur
---
– The Comic Book Critic