Superman November 2012 Solicitations
Here are the November 2012 Superman Group solicitations courtesy of DC Comics.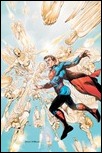 ACTION COMICS #14
Written by GRANT MORRISON
Backup story written by SHOLLY FISCH
Art by RAGS MORALES and MARK PROPST
Backup story art by CHRIS SPROUSE and KARL STORY
Cover by RAGS MORALES
Variant cover by STEVE SKROCE
1:100 B&W Variant cover by RAGS MORALES
On sale NOVEMBER 7 • 40 pg, FC, $3.99 US • RATED T
Combo pack edition: $4.99 US
• Brainiac first warned of the Multitude, and now Superman comes face to face with them — on Mars!
• Plus: In the backup story, what appointment is so important that Superman would drop everything to attend it?
This issue is also offered as a combo pack edition with a redemption code for a digital download of this issue.
---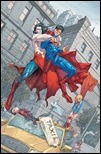 SUPERMAN #14
Written by SCOTT LOBDELL
Art and cover by KENNETH ROCAFORT
1:25 B&W Variant cover by KENNETH ROCAFORT
On sale NOVEMBER 28 • 32 pg, FC, $2.99 US • RATED T
• Following events in this month's SUPERGIRL #14 and SUPERBOY #14!
• It's their worst nightmare: A creature of unknown Kryptonian origin, more powerful than Superman, smarter than Supergirl and more lethal than Superboy.
• His actions will change the course of a planet's fate!
---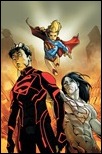 SUPERGIRL #14
Written by MIKE JOHNSON
Art and cover by MAHMUD ASRAR
On sale NOVEMBER 21 • 32 pg, FC, $2.99 US • RATED T
• A "H'ELL ON EARTH" crossover chapter!
• Picking up from SUPERBOY #14, Supergirl meets the villainous H'el!
• What happens when she finds herself agreeing with his pro-Krypton/anti-Earth plans?
• Continued this month in SUPERMAN #14!
---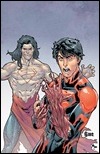 SUPERBOY #14
Written by TOM DeFALCO
Art and cover by R.B. SILVA and ROB LEAN
On sale NOVEMBER 14 • 32 pg, FC, $2.99 US • RATED T
• A "H'ELL ON EARTH" crossover chapter!
• Guest-starring Supergirl and The Teen Titans!
• Fresh from the events of SUPERMAN #13, Superman's deadliest new foe comes after Superboy!
---
– The Comic Book Critic