Preview: Empowered and the Soldier of Love #3 by Warren & Diaz (Dark Horse)
Empowered and the Soldier of Love #3 Preview (Dark Horse)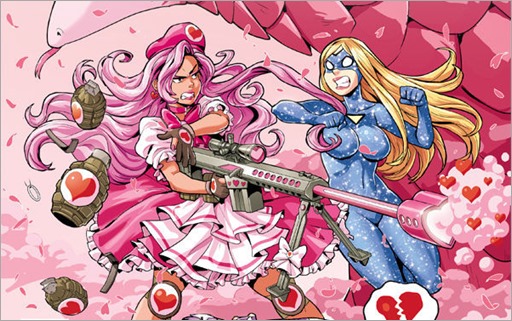 Here's a 6 page preview of Empowered and the Soldier of Love #3 by writer Adam Warren and artist Karla Diaz, on sale May 3rd, 2017 from Dark Horse.
Empowered and the Soldier of Love #3
Writer: Adam Warren
Artist: Karla Diaz
Cover Artist: Karla Diaz
As the very fabric of reality itself unravels around them in a frighteningly literal storm of burning passion, can a desperate Empowered and Ninjette stop the embittered, disillusioned, and out-of-control Soldier of Love from using her supercharged magical-girl powers to eradicate the entire concept of love from their city?
* 2017 marks the tenth anniversary of Empowered!
* Story by series creator Adam Warren!
* Spectacular art by web comic superstar Karla Diaz!
Genre: Superhero, Humor
Publication Date: May 03, 2017
Format: FC, 32 pages; Miniseries
Price: $3.99
UPC: 7 61568 00118 1 00311