Marvel NOW! – FF #1 First Look!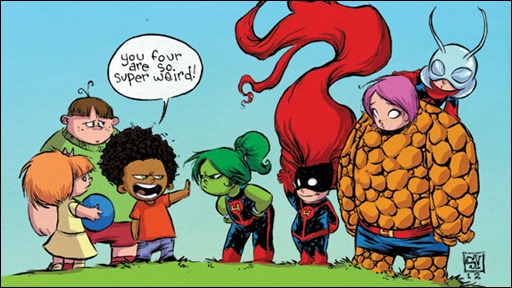 We present a sneak peek at FF #1, by Matt Fraction & Michael Allred, courtesy of Marvel Comics. FF #1 is available on Wednesday, November 28th, 2012.
Press release
Marvel is pleased to present your first look at FF #1, kicking off the all-new ongoing series from the blockbuster creative team of writer Matt Fraction and artist Michael Allred! With the Fantastic Four embarking on an epic journey, an all-new substitute Four, handpicked by original members – Ant-Man, She-Hulk, Medusa, and Miss Thing – stand ready to guard and protect Earth and the Future Foundation for four minutes! What could possibly go wrong?
As part of Marvel NOW!, FF joins a number of titles that will take the Marvel Universe in an exciting all-new direction, as the industry's top creators join the top Super Heroes to deliver all-new ongoing series, great for new and lapsed readers alike!
Each issue of Fantastic Four features special augmented reality content available exclusive through the Marvel AR app – including cover recaps, behind the scenes features and more that add value to your reading experience at no additional cost.
An all-new direction! All-new adventures! This is FF NOW!
This November, Matt Fraction and Michael Allred redefine the future in FF #1!
FF #1 (SEP120593)
Written by MATT FRACTION
Art & Cover by MICHAEL ALLRED
FOC – 11/5/2012, On Sale – 11/28/2012
– The Comic Book Critic