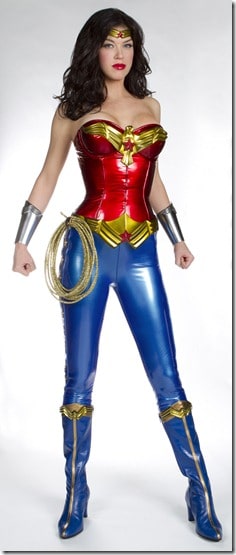 So today we get our first look at the new Wonder Woman costume worn by Adrianne Palicki for the NBC pilot. David E. Kelley ("Boston Legal," "Ally McBeal," NBC's "Harry's Law") wrote the pilot and will be the Executive Producer along with Bill D'Elia ("Boston Legal," "The Practice," NBC's "Harry's Law"). Jeffrey Reiner ("The Event") is directing. Based upon DC Comics characters, "Wonder Woman" is from David E. Kelley Productions and Warner Bros. Television.
Now the first thing that came to mind was that the casting director for the show did a good job and she actually looks pretty good as Wonder Woman. That's the first major hurdle. But almost immediately I thought the suit looked too much like a latex Halloween costume and seemed rather cheap looking for a television network show. The headband and the eagle icon, actually all of the gold details looked cheap. I'm not much of a fashionista, but why blue boots with blue pants? One thing though, the costume fits properly and she looks good in it.
After tearing down the faults of the suit in my mind, I realized how hard it is to actually translate the suit from the printed page to a live action series. Something had to give and a redesign had to have been made. Some of the shorts that Wonder Woman wore in the pages of her own book ranged from granny panties to shorts so high-cut and tight that they may as well have been painted on. I'm sure that might get GREAT ratings on TV, but doesn't actually function in reality.
Could they have used different material for the gold accents? Possibly. At least they didn't go and make the suit all spandex!
Now comes the next big hurdle. Can David E. Kelley write a story that not only draws in fans of the comic, but people who never even touched one. More importantly, can he do that on a regular basis and not just the first couple of episodes where traditionally people watch out of curiosity? That remains to be seen. If he does manage to succeed in doing so, it may be the start of comics based live action shows coming to TV like they're currently doing on the big screen. If this fails, it will be that much harder to get a similar show on the air for a long time.
There's sure to be a lot of debate on either side of the fence on the pros and cons of the suit, but think about this: It's a suit for a real person to wear as opposed to still image drawings. The form has to follow function. What looks good on paper might come across as not only ridiculous but also highly unworkable.
At least she's not wearing the Whataburger logo on her chest.