M.O.D.O.K. ASSASSIN #1 Takes Aim at the WARZONES! This May!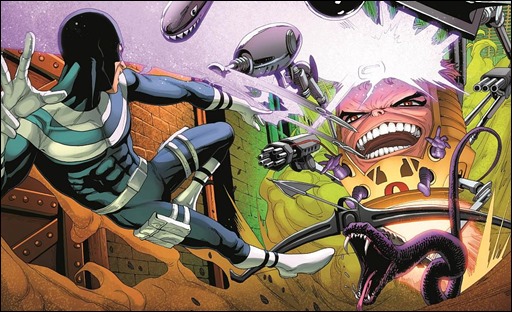 Here's a short, unlettered preview of M.O.D.O.K. Assassin #1 by writer Christopher Yost and artist Amilcar Pinna, on sale May 27th, 2015 from Marvel Comics.
Press Release
There's a new killer in town, and he's taking the Secret Wars by storm.
Evil has a new face. A giant face with no body. Prepare to meet the deadliest hitman on Battleworld in M.O.D.O.K. ASSASSIN #1 – a brand new Secret Wars limited series coming this May! Writer Christopher Yost (co-writer Marvel's Thor: The Dark World, Amazing X-Men) and artist Amilcar Pinna (All-New Ultimates) take you inside Battleworld's wildest domain!
Enter Killville, the only place on all of Battleworld where murder is always the correct answer. If you've got a problem – kill it! In a world populated by fearsome thieves, mercenaries and ne'er do wells – there is one who is a HEAD above the rest. M.O.D.O.K.! The Mental Organism Designed Only for KILLING! And when he's got you in his sights you're dust. But his next job may just put him in over his head. A job that will force him to go toe-to-toe with Doc Ock, Bullseye, Baron Mordo and more – and that's just the first issue! Believe us, bullets will fly and heads will roll this May when M.O.D.O.K. ASSASSIN #1 comes to town!
MODOK ASSASSIN #1 (of 5) (MAR150678)
Written by CHRISTOPHER YOST
Art by AMILCAR PINNA
Cover by DAVID LAFUENTE
Variant Cover by GABRIEL HERNANDEZ WALTA (MAR150679)
FOC – 05/04/15, On-Sale – 05/27/15