IDW Publishing April 2012 Releases!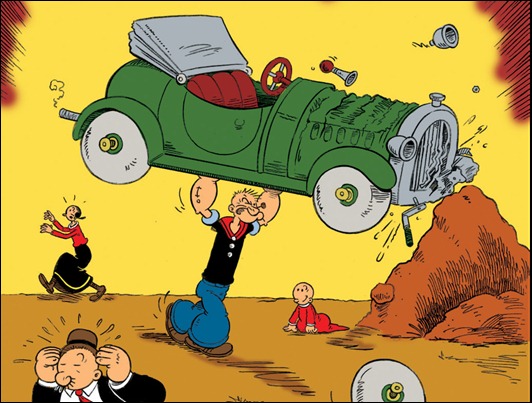 These are the IDW Publishing full solicitations for April 2012.
RICHARD STARK'S PARKER: THE SCORE

Written, art and cover by Darwyne Cooke.
Fresh from his efforts on The Hunter and The Outfit, Darwyn Cooke now sets his steely sights on The Score, the classic Richard Stark Parker novel from 1964. Parker becomes embroiled in a plot with a dozen partners in crime to pull off what might be the ultimate heist — robbing an entire town. Everything was going fine for a while, and then things got bad. Considered one of the best in the Parker series, The Score is the perfect vehicle for Darwyn Cooke to pull out all the stops and let loose with a book that has all the impact of a brutal kick to the solar plexus!
160 pages, $24.99.
---
DUNGEONS AND DRAGONS: FORGOTTEN REALMS 100 PAGE SPECTACULAR

Written by Ed Greenwood, Jeff Grubb, art by Juanfran Moyano, Rags Morales.
Thrill to these classic tales of the Forgotten Realms, selected by creator Ed Greenwood! First, a thrilling 2-part adventure — adapted from Greenwood's own story "Elminster at the Magefair"! Plus two classic, genre-busting Forgotten Realms comics from the 1990s: "Head Cheeeese", in which the halfling Foxy battles a very case of… er, food poisoning? And a very unusual peek behind the curtain in "Everybody Wants to Run the Realms."
100 pages, $7.99.
---
DUNGEONS & DRAGONS, VOL. 3: DOWN

Written by John Rogers, art by Andrea Di Vito, Nacho Arranz, Vicente Alcazar, and Andres Ponce, cover Tyler Walpole.
Fell's Five has returned to Fallcrest, only to find shattering news for Khal. He's heading home, and nothing will stand in his way!
132 pages, $24.99.
---
DUNGEONS & DRAGONS: FORGOTTEN REALMS #1
Written by Ed Greenwood, art by Lee Ferguson and Sal Buscema cover by Tyler Walpole, Steve Ellis.
Forgotten Realms creator Ed Greenwood opens the adventures of an unlikely new band of heroes who get into a bit more trouble than usual in the fabled port city of Waterdeep, but soon discover some of the seedier corners of the wider Realms — the hard way! This new series kicks off a deadly tale with a kidnapping that is more — and less — than it seems…
32 pages, $3.99.
---
INFESTATION 2 #2

Written by Duane Swierczynski, art by David Messina, cover by Alex Garner.
The mind-bending terror of the Elder Gods has infested countless universes. Reality, and humanity itself, hang in the balance. Now it all comes down the final battle. C.V.O. is scattered across America, and one of their own may be the key to stoping the threat once and for all — but not without a tremendous sacrifice. Danger Girl and others are on hand to help, but will it be enough?
32 pages, $3.99.
---
INFESTATION 2: 30 DAYS OF NIGHT


Written by Duane Swierczynski, art by Stuart Sayger, cover by Livio Ramondelli, Sam Shearon.
December 1952. An Air Force pilot and civilian photographer embark on a top-secret mission to investigate a possible Russian installation near the North Pole. They discover they've been beaten to the punch by another team, and they're not Russian. But they do have a fondness for red…
32 pages, $3.99.
---
30 DAYS OF NIGHT #6

Written by Steve Niles, art by Christopher Mitten, cover by Davide Furno.
As Alice Blood debates her future with the FBI, a new threat from the North comes to America. Barrow, Alaska, has been massacred. And the death of a vampire leads her once great love to become the greatest enemy humankind has ever known.
32 pages, $3.99.
---
30 DAYS OF NIGHT, VOL. 1
Written by Steve Niles, art and cover by Sam Kieth.
Niles returns to the creation that launched his career for an all-new 30 Days of Night series, with warped genius Sam Kieth handling the art duties. Features an all-new cast of characters being introduced to the world of 30 Days of Night for the first time!
104 pages, $17.99.
---
ROCKETEER ADVENTURES 2 #2


Written by Paul Dini, Walter Simonson, Tom Taylor, art by John Paul Leon, Bill Morrison, Colin Wilson, covers by Darwyn Cooke, Dave Stevens.
The second star-studded issue of Rocketeer Adventures streaks into the skies with three high-flying tales of derring do! We start with a story on a grim battle field and race to save a soldiers life. Next up Is a jealous Cliff keeping an eye on Betty in his own inimitable way. Last is a run-in with a Hollywood icon in danger! Another 25 pages of gorgeous art and stories — and all for the price of a regular 22 page book!
32 pages, $3.99.
---
POPEYE #1

Written by Roger Landridge, art and cover by Bruce Ozella.
Popeye the Sailor Man sails again! E.C Segar's classic creation is back, with his first original comic in over 30 years! Written by Roger Landridge, with pitch-perfect art from rising star Bruce Ozella, it's a new take on the classic character that's true to its roots! With a rare incentive cover from legendary Pulitzer Prize-winning cartoonist Jules Feiffer!
32 pages, $3.99.
---
TEENAGE MUTANT NINJA TURTLES #9

Written by Tom Waltz, Kevin Eastman, art by Dan Duncan, covers by Dan Duncan, Kevin Eastman.
You'd think that General Krang's arrival in New York City would be bad enough news, right? Oh no, there's still plenty more misery to go around! The Turtle's home in the sewers is destroyed thanks to a sinister team-up between Baxter Stockman and Old Hob. Now that the Turtles are homeless, with one of their own captured, things have never looked bleaker for our heroes. The key to their salvation may lie with… April O'Neil?
32 pages, $3.99.
---
TMNT MICRO SERIES #4: LEONARDO

Written by Brian Lynch, art by Ross Campbell, covers by Ross Campbell, David Petersen.
The final Turtle Micro-series is here! Leonardo, the eldest brother, has always valued honor and discipline. These noble qualities may not be enough against the most fearsome opponents he has encountered — the ruthless Foot Clan! That's right, the first battle between Turtle and Foot happens right here! This story also leads into the next ongoing story-arc.
32 pages, $3.99.
---
TEENAGE MUTANT NINJA TURTLES: ARCHIE 100 PAGE SPECTACULAR

Written, art and cover by by Michael Dooney.
Heroes in a half-shell for all ages! Representing the three-issue mini-series that adapted the first five episodes of the original animated TMNT series! Featuring the origins of the Turtles, Splinter, Bebop and Rocksteady… and the first Archie appearances of Shredder and the Foot Clan!
100 pages, $7.99.
---
NEXT MEN: AFTERMATH #42

Written, art and cover by John Byrne.
The year: 1975. The place: a not so sleepy town in West Texas. The stakes: an unborn life. Project Nxt Men has been wiped out of existence, but some things remain unchanged. And that's the easy part!
32 pages, $3.99.
---
COLD WAR, VOL. 1: THE DAMOCLES CONTRACT

Written, art and cover by John Byrne.
Byrne releases his latest creation, MI-6 agent Michael Swann. In Swann's opening adventure, "The Damocles Contract," the secret agent is called on to stop a defecting British scientist from granting the Soviets complete nuclear dominion over the free world… promising ample doses of intrigue and espionage.
120 pages, $19.99.
---
STAR TREK #8

Written by Mike Johnson, art by Joe Phillips, cover by Tim Bradstreet.
Captain Kirk and the crew of the Enterprise race against time to stop a renegade Vulcan plot to destroy Romulus! Spock's father Sarek guest-stars in this original story overseen by Star Trek writer/producer Roberto Orci that takes place between the events of the 2009 blockbuster film and the upcoming sequel!
32 pages, $3.99.
---
TRANSFORMERS: MORE THAN MEETS THE EYE #4

Written by James Roberts, art by Alex Milne, covers by Alex Milne, Nick Roche.
Danger in space! Investigating the abandoned Autobot facility on Delphi — one-time home of fan-favorites The Wreckers — Ratchet uncovers a danger greater than he's ever faced… and the return of a character long thought lost! Will this bring them closer to their goal of finding the Knights of Cyberton — or kill them?!
32 pages, $3.99.
---
TRANSFORMERS: ROBOTS IN DISGUISE #4

Written by John Barber, art by Andrew Griffith, covers by Casey Coller, Andrew Griffith.
Prowl unchained! In what's sure to be the most shocking Transformers comic of 2012 — Prowl defends the fledgling government of Cybertron against the Decepticon. But how far will he go — and who will chose to stand by his side? The answers will shock you!
32 pages, $3.99.
---
TRANSFORMERS: THE IDW COLLECTION, VOL. 6
Written by Mike Costa, Zander Cannon, Nick Roche and James Roberts, art by Don Figueroa, Chee, Nick Roche, Guido Guidi and E.J. Su, cover by E.J. Su.
The re-presentation of IDW's Transformers Universe continues in volume 6! Includes the first six issues of the ongoing series written by Mike Costa and drawn by Don Figueroa, the four-issue Bumblebee series by Zander Cannon and Chee, the fan favorite Last Stand of the Wreckers by James Roberts and Nick Roche, and the Prowl Spotlight.
364 pages, $49.99.
---
G.I. JOE: VOL. 2 #12

Written by Chuck Dixon, art by Will Rosado, covers by Will Rosado, Steve Ellis.
Cobra Command aftermath! It's a new day for the JOEs — as they crawl from the ruins of Cobra Command, they find a new status quo… and a change in command! Who will lead the Joes into this new, deadlier, downsized future? Scarlett leads and op into one of the wildest wildernesses on the planet to uncover a Cobra facility that threatens the very balance of the universe as we enter… Deep Terror!
32 pages, $3.99.
---
SNAKE EYES #12

Written by Chuck Dixon, art by Bennie Lobel, covers by Robert Atkins, Andrew Griffith.
Cobra Command aftermath! The most dangerous Joe is presumed K.I.A. — but we know different! Snake Eyes returns to the Hard Master to deliver some shocking news as only the silent JOE can. But someone Snake Eyes cares deeply about has been harmed and someone else is going to have to pay for that. It's ninja action in the urban jungle and plenty of new surprises!
32 pages, $3.99.
---
COBRA #12

Written by Mike Costa, art by Antonio Fuso, covers by Antonio Fuso, David Williams.
Cobra Command aftermath!Devastated by the events in Cobra Command, the team reflects on the life and death of fan-favorite character, Chuckles. Meanwhile, the survivors of Cobra Command make peace with horrors of the past… and prepare the horrors of the future.
32 pages, $3.99.
---
G.I. JOE: A REAL AMERICAN HERO #177

Written by Larry Hama, art by Ron Frenz and Sal Buscema, covers by Herb Trimpe, Ron Frenz.
The stakes are higher than ever! Cobra Commander has discovered the danger in the midst of Broca Beach, and has begun his preparations to face off against the Blue Ninjas. Meanwhile, Duke, Scarlett and Stalker split off on their own from G.I. JOE in order to head to Broca Beach. And with Snake Eyes and Baroness en route as well, this could be the showdown to end all showdowns. Prepare for the final confrontation in G.I. Joe: A Real American Hero #177!
32 pages, $3.99.
---
G.I. JOE 2: MOVIE PREQUEL #4

Written by John Barber, art and cover by Salvador Navarro.
The final battle! Storm Shadow leads his ninja on an attack that threatens to cripple America's national security! The only men who can stop him are Snake Eyes and Roadblock — but can they put aside their differences and learn from each other in time? It's ninja and commando action in the frantic G.I. JOE manner, leading ino the hottest movie of 2012!
32 pages, $3.99.
---
G.I. JOE: COBRA: COBRA CIVIL WAR, VOL. 2

Written by Mike Costa, art by Werther Dell'Edera, cover by David Williams.
The Cobra Civil War rages on! As a new CHAMELEON takes center stage, delve into the dark past of Cobra's sinister sleeper agent. The end of Cobra Civil War nears and as does the unveiling of the new Cobra Commander.
104 pages, $17.99.
---
HERO COMICS 2012

Written by Matt Fraction, Chris Ryall, Kevin Eastman, more, art by Ashley Wood, Kevin Eastman, Andy Kuhn, more, covers by J. Scott Campbell, Joe Jusko.
A comic to benefit the Hero Initiative, featuring all-new stories by some of the best creators in comics! Fantastic features include: An original Teenage Mutant Ninja Turtles short story, a Zombies vs. Robots extravaganza, a new Rex Mantooth Kung-Fu Gorilla story, plus more! And this book will also present single page stories by comics creators who have personally benefitted from the Hero Initiative!
32 pages, $3.99.
---
DOROTHY OF OZ PREQUEL #2

Written by Denton J. Tipton, art by Blair Shedd, cover by Eric Shanower.
Based on the upcoming animated film Dorothy of Oz! Building on the world created in the celebrated children's book by Roger Stanton Baum, Dorothy of Oz will tell the tale of the titular hero's return to the Land of Oz. But first read here about what events transpired to necessitate Dorothy's return, and witness the rise of the Jester!
32 pages, $3.99.
---
GHOSTBUSTERS #8

Written by Erik Burnham, art by Dan Schoening, covers by Dan Schoening, Nick Runge.
The spotlight is on Egon Spengler as he tracks down a paranormal entity — one that has ties to his past — to discover the true source of the city's abnormally high PKE levels! The grand finale to the second arc of the hit ongoing series!
32 pages, $3.99.
---
DANGER GIRL: REVOLVER #4

Written by Andy Hartnell, art by Chris Madden, covers by J. Scott Campbell and Chris Madden.
It all comes down to this! Join us in our action-packed, final issue as Abbey, Sydney and the rest of the Danger Girl team finally track down the mysterious Peruvian treasure. But when our heroes infiltrate the enemy's fortress – only to find themselves facing a surprise fraternity of villains – will they ever manage to fight their way out? Find out as the year's sexiest and most dangerous event concludes!
32 pages, $3.99.
---
ROAD RAGE #3

Written by Richard Matheson, Chris Ryall, art and cover by Rafa Garres.
The focus turns to the inspiration behind Throttle, Richard Matheson's classic tale of isolation and terror, Duel! See the story that inspired Steven Spielberg's movie come to vivid life here, courtesy of adapter Chris Ryall and artist Rafa Garres!
32 pages, $3.99.
---
MEMORIAL #5

Written by Chris Roberson, art by Rich Ellis, cover by Michael WM Kaluta.
Lost in the otherworldly Everlands, Em has finally begun to realize how much she has forgotten. But she also discovers that the only way to regain all that she has lost is not to return to the world she knows, but instead to venture into the very heart of Everlands itself. Between Em and her goal, however, is a crazed patchwork landscape across which walking shadows, living statues, blind kung fu librarians, and forgotten heroes fight to survive in a struggle that could mean the end of time as we know it.
32 pages, $3.99.
---
DOCTOR WHO #16

Written by Joshua Hale Fialkov, art by Matthew Dow Smith, covers by Mark Buckingham, photo.
This special arc by writer Joshua Hale Fialkov concludes! The Silurian plan is revealed, apocalypse imminent, and with mere minutes to go, can the Doctor and his strange new ally save not just Casablanca but the entire human race?
32 pages, $3.99.
---
DOCTOR WHO CLASSICS SERIES IV #3

Written by Jamie Delano, art and cover by John Ridgway.
IDW's newly recolored reprints of classic Doctor Who tales from years past returns! This all-new series picks up where Series III left off, with the adventures of the Sixth Doctor! After a time cannon hits the TARDIS, the Doctor and Frobisher find themselves on prehistoric Earth where they must prevent the course of human evolution from being altered forever.
32 pages, $3.99.
---
SMOKE AND MIRRORS #2
Written by Mike Costa and Jon Armstrong, art and cover by Ryan Browne, Jenny Frison.
Enter the world of magic! With just his slight-of hand skills, stage magician Terry Ward finds himself in a world he didn't make — a world where sorcery is real! When he befriends a kid from this world, will danger come calling? You bet it will!
32 pages, $3.99.
---
MONOCYTE #4
Written by menton3, Kasra Ghanbari, art and cover by menton3. The world is in in chaos. Monocyte makes his way to Azrael as the human slaves are freed… Series conclusion with art by menton3 and co-written by Kasra Ghanbari with an incentive cover by world-renowned fine artist Phil Hale and side stories by legendary fine artist/illustrator Barron Storey and writer Steve Niles.
32 pages, $3.99.
---
HAWKEN #6

Written by Tim Truman and Ben Truman, art and cover by Tim Truman.
The climactic showdown of the first Hawken arc! Hawken faces off with his twisted protege, Sombre. Timothy and Benjamin Truman prove the West wasn't just wild, it was goddamn ugly. Alternate wraparound cover by Dominic Vivona, artist of the WWII zombie comic hit FUBAR!
32 pages, $3.99.
---
ANNE RICE'S SERVANT OF THE BONES

Written by Anne Rice and Mariah McCourt, art and cover by Renae DeLiz and Ray Dillon.
Anne Rice, among the most iconic creators in horror, brings one of her richest stories to the graphic novel medium. And it's a tale of murder, demonic revenge, and the redemptive power of faith. Faithfully adapted to comics by Rice and McCourt, and ornately illustrated by the team of Renae DeLiz and Ray Dillon.
152 pages, $24.99.
---
H.P. LOVECRAFT'S THE DUNWICH HORROR

Written by Joe R. Lansdale, art by Peter Bergting, cover by Menton3.
H.P. Lovecraft is known as one of the key founders of modern horror, cited as a major influence by many prominent authors, such as Stephen King. In collaboration with renowned Lovecraft historian and literary caretaker Robert Weinberg, presents the definitive Lovecraft comics updated for a 21st century audience. Adapting "The Dunwich Horror" and "The Hound" a new vision of Lovecraft emerges, courtesy of Joe Lansdale and company!
104 pages, $17.99.
---
PRINCESS OF MARS

Written by Edgar Rice Burroughs, art and cover by Michael W. Kaluta.
Following up the Disney-produced motion picture that just hit theaters, relive this classic adventure tale from Edgar Rice Burroughs. John Carter and his 'Barsoom' experiences are re-imagined in gorgeous chapter illustrations by comic legend Mike Kaluta!
240 pages, $17.99.
---
GENIUS, ILLUSTRATED: THE LIFE AND ART OF ALEX TOTH

Written by Dean Mullaney and Bruce Canwell, art and cover by Alex Toth.
Dean Mullaney and Bruce Canwell continue their comprehensive review of the life and art of Alex Toth in Genius, Illustrated. Covering the years from the 1960s to Toth's poignant death in 2006, this oversized book features artwork and complete stories from Toth's latter-day work at Warren, DC Comics, Red Circle, Marvel, and his own creator-owner properties… plus samples of his animation work for Hanna-Barbera, Ruby-Spears, and others — as well as sketchbook pages, doodles, advertising art, and other rarities provided through the cooperation of Toth's family and his legion of fans. Two of Toth's best stories are reproduced complete from the original artwork: "Burma Skies" and "White Devil… Yellow Devil." A full-length text biography will chart the path from Toth's increasingly reclusive lifestyle to his touching re-connection to the world in his final years. Fans of comics, cartoons, and all-around great artwork revere Alex Toth. See why Genius, Illustrated — along with its companion volume, 2011's Genius, Isolated — are being praised as the definitive examination of the life and art of The Master, Alex Toth!
288 pages, $49.99.
---
WALLY WOOD GALAXY

Written by Roger Hill, art and cover by Wally Wood.
Wally Wood's career is legendary among the annals of comic's history. He rocketed to fame working on Will Eisner's The Spirit newspaper strip and became one of the most talented artists working for EC Comics during the 1950s. Wood also became a star of EC's satire comic called Mad, which went on to even greater success as a magazine, allowing the artist to apply his amazing talents in a broader spectrum. When the comics industry fell on lean times during the mid 1950s, Wood segued into the field of science fiction pulp illustration, providing over 200 beautiful drawings and several color cover paintings for the digest magazines; particularly Galaxy. Wood left behind a legacy of great art, much of which has never been reprinted. This book will feature them all. Long time Wally Wood historian Roger Hill has spent the past twenty years pulling together the history of Wood's involvement with the pulp digests and tracking down original art for this project. Over half of the images have been pulled from the originals or from Wood's personal file copies, allowing Wood fans the finest possible reproduction!
160 pages, black and white, $29.99.
---
ETERNAL DESCENT, VOL. 2 #4


Written by Llexi Leon, Justin Peniston, art by Ivan Fernandez, covers by Jason Metcalf, Santi Casas.
Chosen by an unearthly intellect, a champion is born in Misha Mansoor! With technology beyond our comprehension, his destiny lies at the heart of the time stream, and the fate of humanity may rest on his shoulders. Determined to find Sirian, Lyra turns to Richard for answers, but when her questions awaken a long dormant power, the duo form a reluctant alliance. Unaware of its true purpose, they activate the spheres key, bringing down the full wrath of the association. A narrow escape finds Lyra in a tainted world of familiar foes, where the supernatural succubus and a high-tech hero must fight for their future.
32 pages, $3.99.
---
NEVSKY: HERO OF THE PEOPLE

Written by Ben McCool, art and cover by Mario Guevara.
Written by Ben McCool (Memoir, Pigs) with art by rising star Mario Guevara (Solomon Kane, Victorian Undead), this full-length graphic novel is a stunning re-imagination of Sergei Eisenstein's famed film, Alexander Nevsky (1938). Alexander Nevsky is a central figure in Russian history, having lived during one of Russia's darkest periods–the invasion of the Teutonic Knights. Alexander Nevsky helped establish the Russian nation by defeating the Teutonic Knights, invaders from the last vestiges of the Holy Roman Empire, with an army comprised of ordinary citizens who were poorly-equipped soldiers but fought for their freedom. This ragtag band, against overwhelming odds, Â defeated the invaders in an epic battle on the frozen lake Peipus–a spectacular achievement that is still celebrated in Russia to this day. In 1938 the great Russian filmmaker Sergei Eisenstein, much acclaimed for his masterful interpretation as seen in "Battleship Potemkin" (1925) and "Ivan the Terrible" (1944), brought the story of Alexander Nevsky to life on the silver screen in an innovative and brilliant way, by developing new film techniques that remain in use almost 100 years later by some of the greatest directors of our time. Now, following in the steps of Eisenstein, IDW is proud to present one of the most compelling historical graphic novels ever produced — one that is as relevant today as it was at any time in history!
128 pages, $24.99.
---
V-WARS

Written by Jonathan Maberry, Nancy Holder, Yvonne Navarro, James A. Moore, Gregory Frost, John Everson, Keith R.A. DeCandido, and Scott Nicholson.
A sweeping threaded narrative of the global phenomenon known as the Vampire Wars.
Mankind has been silently infected by millennia-old bacteria unknowingly exhumed by a scientific expedition in Antarctica. Now, in some rare cases, a person's so-called "junk DNA" becomes activated, and depending on their racial and ethnic heritage they begin to manifest one of the many diverse forms of the "others" that are the true basis for the legends of supernatural creatures. These aren't your usual vampires and werewolves — it goes much deeper than that.
Conceived by Jonathan Maberry, V WARS features stories from various "frontlines" as reported by such contributors as Nancy Holder, Yvonne Navarro, James A. Moore, Gregory Frost, John Everson, Keith R.A. DeCandido, and Scott Nicholson (as well as Maberry himself, of course).
The result is a compelling series of tales that create a unique chronicle of mankind's response to this sudden, hidden threat to humanity.
384 pages, black and white, $24.99.
---
OZ TREASURY EDITION

Written, art and cover by Eric Shanower.
A marvelous mega-sized sampling of classic Oz stories by Eric Shanower! Wonder and magic abound in this special collection, which includes "The Forgotten Forest of Oz," featuring Dorothy, the Scarecrow, and Toto, too! The evil Troll King leads a horde of axe-wielding trolls and fire-breathing dragons to destroy the wood-nymphs of the enchanted Forest of Burzee. Only Dorothy Gale of Kansas holds the key to avert disaster!
64 pages, $9.99.
---
BLOOM COUNTY, VOL. 5 SIGNED/NUMBERED LTD ED.
Written, art and cover by Berkeley Breathed.
IDW Publishing is proud to present the final signed and numbered limited edition of Bloom County: The Complete Library. Strictly limited to 500 copies, each with a special signature plate bound into the book, and signed by Bloom County creator Berkeley Breathed.
272 pages, $50.
---
JURASSIC PARK: DANGEROUS GAMES

Written by Greg Bear and Erik Bear, art by Jorge Jimenez, cover by JK Woodward.
It is 11 years after the events of the Jurassic Park movies and CIA agent Daniel Espinoza is working undercover to infiltrate infamously brutal Nicaraguan drug lord Gabriel Cazares' drug ring. Cazares and his henchmen have taken over Isla Nubar and converted the main facility into a walled fortress and pleasure palace in the center of a primeval jungle filled with savage monsters. When his deep cover is blown, Espinoza finds himself lost and alone on the dangerous island, hunted by both armed thugs and prehistoric monstrosities. And there is someone else watching him, too — a mysterious figure in the shadows who could be Espinoza's only hope for survival… or the bringer of his ultimate doom.
112 pages, $24.99.
---
– The Comic Book Critic