IDW September 2012 Releases!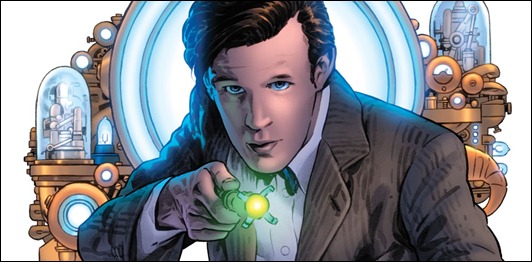 Here are the September 2012 comic book solicitations from IDW Publishing.

STAR TREK #13
Mike Johnson (w) • Stephen Molnar (a) • Tim Bradstreet (c)
The Redshirt's Tale. Everyone knows the joke about the dire fate of crewmembers who wear red on the Enterprise. Even the redshirts themselves! The countdown to next year's blockbuster STAR TREK sequel continues here, with an ALL-NEW stand-alone story that shows life on the Enterprise through a redshirt's eyes!
FC • 32 pages • $3.99
---

STAR TREK: ROMULANS TREASURY EDITION
John Byrne (w & a & c)
Master storyteller John Byrne, famed for his classic runs on Uncanny X-Men and Next Men, presents a trio of Classic Trek stories featuring the Romulan Empire. These are classic stories adventure, danger and intrigue, and even more importantly… John Byrne's art just looks so cool printed in our awesome treasury format!
FC • Cardstock • $9.99 • 72 pages • 9.25" x 14.25"
---


STAR TREK: THE NEXT GENERATION: HIVE #1
Brannon Braga & Terry Matalas (w) • Joe Corroney, photo (a & c)
Celebrating the 25th anniversary of Star Trek: The Next Generation!
In the distant future the entire galaxy has been completely assimilated by Borg and it's king… Locutis! The only hope for the future lies in the past, in the hands of Captain Jean-Luc Picard and the crew of the starship Enterprise—as Picard faces off against the Borg collective in one final, terrifying and definitive encounter!
Brannon Braga is one of the writers most associated with the Star Trek Franchise. He has written a number of fondly remembered episodes of TNG, including co-writing the two-part series finale, "All Good Things…," for which he won the prestigious Hugo Award. Terry Matalas has written for Star Trek: Enterprise, as well as Terra Nova.
*2 regular covers will be shipped in a 4-to-1 ratio (4 Joe Corroney, 1 photo)
FC • 32 pages • $3.99
---


STAR TREK: THE NEXT GENERATION/DOCTOR WHO: ASSIMILATION2 #5 (OF 8)
Scott & David Tipton with Tony Lee (w) • J.K. Woodward (a & c)
The two greatest science-fiction properties of all time cross over for the first time in history, in STAR TREK: THE NEXT GENERATION/DOCTOR WHO: ASSIMILATION2! Captain Jean-Luc Picard faces one of the most difficult decisions of his life, but the fate of the galaxy may depend on it! Can the Doctor convince him to make the correct choice?
FC • 32 pages • $3.99
---

STAR TREK: THE NEXT GENERATION/DOCTOR WHO: ASSIMILATION2, VOL. 1
Scott Tipton & David Tipton (w) • J.K. Woodward (a & c)
When the Federation's most terrifying enemy strikes an unholy alliance with one of the Doctor's most hated antagonists, the result is devastation on a cosmic scale! Spanning the ends of space and time itself, Captain Jean-Luc Picard and the crew of the USS Enterprise find themselves joining forces with the Doctor and his companions, with the fate of the galaxy hanging in the balance!
TPB • FC • $17.99 • 104 pages
---

DOCTOR WHO #1
Andy Diggle (w) • Mark Buckingham (a & c)
The Doctor is back! Welcome to a new, exciting era for everyone's favorite Time Lord, as New York Times bestselling writer Andy Diggle (The Losers) pilots the TARDIS as the ongoing series architect. Joining him for this first arc is Eisner Award-winning artist Mark Buckingham (Fables), who also will provide covers for the series. Geronimo!
FC • 32 pages • $3.99
---

DOCTOR WHO: DAVE GIBBONS COLLECTION
Pat Mills, Steve Moore, Steve Parkhouse, & John Wagner (w) • Dave Gibbons (a & c)
Industry legend Dave Gibbons illustrated a classic run of Doctor Who comics, and this oversized book collects them all! And in full color! Gibbons-drawn strips began appearing in the very first issue of Doctor Who Magazine (then titled Doctor Who Weekly), starring the Fourth Doctor as portrayed by Tom Baker, and Gibbons continued as the primary artist until issue #69, a Fifth Doctor tale. This volume also features an introduction by Gibbons, along with early Doctor Who sketches from the master.
TPB • FC • $29.99 • 372 pages • 7" x 11"
---

DUNGEONS & DRAGONS: FORGOTTEN REALMS: LEGENDS OF DRIZZT OMNIBUS, VOL. 2
Andrew Dabb & R.A. Salvatore (w) • Valdis Semeiks & Tim Seeley • (a) Tim Seeley (c)
Adapted from the famous books by R.A. Salvatore, Dungeons & Dragons: Forgotten Realms: Legends of Drizzt Omnibus, Vol. 2 delivers three graphic novels in the Icewind Dale Trilogy—The Crystal Shard, Streams of Silver, and The Halfling's Gem—into one great book!
TPB • FC • $29.99 • 460 pages • 6" x 9"
---

DUNGEONS & DRAGONS: FORGOTTEN REALMS #5
Ed Greenwood (w) • Lee Ferguson & Sal Buscema (a) • Steve Ellis (c)
Randral, Torn, and Talandra fled Waterdeep for the wilderness. Only to learn, as the sinister intrigues they fled reach after them, that they've arrived in a place where outlaws and marauding monsters lurk—a place that's called the Ghost Holds for good reasons. Now they just have to get out of it alive.
*2 regular covers will be shipped in a 1-to-1 ratio
FC • 32 pages • $3.99
---

GODZILLA #5
Duane Swierczynski (w) • Simon Gane (a) • Zach Howard (c)
Boxer and his team decide it's time to turn their sights to the big game—Godzilla! A perfect plan goes awry when a billionaire adventurer gets his hands on Mechagodzilla. The result? Utter monster mayhem!
FC • 32 pages • $3.99
---

GODZILLA: HALF CENTURY WAR #2 (OF 5)
James Stokoe (w & a & c)
The year is 1967 and Godzilla is on the move… to Vietnam! With a war underway, Godzilla is the last thing the country needs. Lieutenant Murakami follows Godzilla to try out some new tech on the monster, but a super-sized foe named Anguirus might just be the most effective counter-measure. It's a rumble in the jungle, don't miss it!
FC • 32 pages • $3.99
---

A FINE & PRIVATE PLACE #1 (OF 5)
Peter S. Beagle, Peter B. Gillis (w) • Eduardo Francisco (a) • Jenny Frison (c)
Beginning the adaptation of Peter S. Beagle's poignant novel of of memory, despair and love on the other side of the ruins! What's it like to die? Can an ex-pharmacist camped out in a New York cemetery explain the secrets of life and death? Can the talking raven who steals sandwiches for him? And will the ghosts listen?
FC • 32 pages • $3.99
Expected in-store date: 9/26/12
---

TRUE BLOOD #5
Ann Nocenti & Michael McMillian (w) • Federica Manfredi (a) • Tim Bradstreet, photo (c)
Alan Ball's hit HBO series, the sensually sizzling story of the lives and loves of vampires, mind readers, and all manner of creatures, is back as an ongoing series! With creative collaboration from TRUE BLOOD creator/writer/producer Ball, this series features writers Annie Nocenti (Daredevil, Green Arrow) and Michael McMillian. Now that the "Where Were You?" arc has concluded, we take a look at the sorrid past of the villain who plagued Bon Temps during that time, along with guest artist Federica Manfredi (Star Trek).
*2 regular covers will be shipped in a 4-to-1 ratio (4 Bradstreet, 1 photo)
FC • 32 pages • $3.99
---

WOMANTHOLOGY: SPACE #1
Sandy Carpenter, Bonnie Burton, Chrissie Zullo (w) • Ming Doyle, Stephanie Hans, Jessica Hickman, Stacie Ponder, Maja K., Tanja, Anna Bowie (a) • Renae DeLiz (c)
Womanthology: Space, the follow up to the hit Kickstarter project, Womanthology: Heroic, starts off with the first of five out-of-this-world issues: Moon. Each issue contains three 6-page stories, plus pinups, how-tos, and more, by women of all ages and experience. Check out a haunted space station, a snarky robot, and so much more in this debut issue.
FC • 32 pages • $3.99
---

TEENAGE MUTANT NINJA TURTLES COLOR CLASSICS #4
Kevin Eastman, Peter Laird (w) • Eastman, Laird (a & c)
This tale of the original TMNT, now in all-new color, expanded the Turtles universe COSMICALLY! In the search for the missing Splinter, the TMNT run headfirst into Foot Ninja and a mystery corporation that has ties to their pre-mutated past. But their investigation into the past drags them into a wholly unexpected future — one of epic science fiction proportions!
FC • 40 pages • $3.99
---

TEENAGE MUTANT NINJA TURTLES, VOL. 3: SHADOWS OF THE PAST
Tom Waltz & Kevin Eastman (w) • Dan Duncan (a & c)
The Turtle's home in the sewers is destroyed thanks to a sinister team-up between Baxter Stockman and Old Hob. Now that the Turtles are homeless, with one of their own captured, things have never looked bleaker for our heroes. And enter…THE SHREDDER! Collects issues #9 – 12 of the breakout hit relaunch!
TPB • FC • $17.99 • 104 pages
---

TEENAGE MUTANT NINJA TURTLES #14
Tom Waltz, Kevin Eastman (w) • Andy Kuhn (a) • Kuhn, Eastman (c)
Splinter instructs Raphael in the true way of the ninja, and Casey's life is irrevocably changed! The Turtles have a new mission, but Shredder's ambitions could put an end to it before they begin. Plus, Krang unveils his master plan! This issue lays the groundwork for a thrilling new story arc that plunges the Turtles into two epic wars! Don't miss it!
*2 regular covers will be shipped in a 4-to-1 ratio (4 Andy Kuhn, 1 Kevin Eastman)
FC • 32 pages • $3.99
---

TEENAGE MUTANT NINJA TURTLES MICROSERIES #8: FUGITOID
Paul Allor (w) • Paul McCaffrey (a) • David Petersen, McCaffrey (c)
Professor Honeycutt was instrumental in developing General Krang's technology. But when he realized just how insanely tyrannical his boss was, he decided to defect. One doesn't betray Krang without consequences, though, and Honeycutt's only chance for survival was to transport his mind into a fugitive robot body! The resulting adventure leads the new 'Fugitoid' to Earth, and stands to affect the Turtles' future in an unexpected and crucial way!
*2 regular covers will be shipped in a 4-to-1 ratio (4 David Petersen, 1 Paul McCaffrey)
FC • 32 pages • $3.99
---

TRANSFORMERS: MORE THAN MEETS THE EYE ONGOING #9
James Roberts (w) • Alex Milne (a) • Milne, Nick Roche (c)
SHADOWPLAY begins here! One AUTOBOT connects the crew of the Lost Light with pre-war CYBERTRON and the rise of the DECEPTICONs. His name? OPTIMUS PRIME. The past and the present collide as Rewind begins telling his crew mates the most shocking story of all!
*2 regular covers will be shipped in a 1-to-1 ratio
FC • 32 pages • $3.99
---

TRANSFORMERS: ROBOTS IN DISGUISE ONGOING #9
John Barber (w) • Andrew Griffith (a) • Griffith, Casey Coller (c)
DINOBOT HUNT! Ironhide and the DINOBOTS journey deep into the Cybertronian wilderness… and what they find is not what they expected! Meanwhile, the DECEPTICONS enact a dangerous plan with bizarre consequences!
*2 regular covers will be shipped in a 1-to-1 ratio
FC • 32 pages • $3.99
---

TRANSFORMERS: ROBOTS IN DISGUISE ANNUAL 2012
John Barber (w) • Brendan Cahill & Guido Guidi (a) • Tim Seeley, Livio Ramondeli (c)
CRASHING DOWN! The mysterious Metrotitan from last month's More Than Meets the Eye Annual arrives on CYBERTRON—smashing into the ruins of the legendary Crystal City! Starscream and Prowl begin a battle of wills over the fate of this behemoth—and the outcome will shock you!
*2 regular covers will be shipped in a 1-to-1 ratio
FC • 48 pages • $7.99
---

TRANSFORMERS: REGENERATION ONE #83
Simon Furman (w) • Andrew Wildman (a) • Wildman, Guido Guidi (c)
The Wreckers are on Earth—and their fates rest in the hands of… a human? A very particular human—Spike Witwicky, the Circuit Smasher! The AUTOBOTs learn what MEGATRON's been doing the past 20 years… and OPTIMUS PRIME struggles to come to a decision about the future!
*2 regular covers will be shipped in a 1-to-1 ratio
FC • 32 pages • $3.99
---
TRANSFORMERS: THE IDW COLLECTION, VOL. 7
Shane McCarthy, Dan Abnett, Andy Lanning, & Mike Costa (w) • Nick Roche, Alex Milne, Don Figueroa, EJ Su, Javier Saltares, & Guido Guidi (a) • E.J. Su (c)
The re-presentation of IDW's Transformers Universe continues in volume 7! Includes the Drift 4-issue series, Infestation V. 1 TF #1–2, plus Ongoing issues #7–18!
HC • FC • $49.99 • 358 pages • 7" x 11"
---

G.I. JOE: A REAL AMERICAN HERO #182
Larry Hama (w) • Ron Frenz and Sal Buscema (a) • Ron Frenz and Sal Buscema (c)
DARKLON IS ON THE LOOSE! G.I. JOE has lost their prisoner, and it's up to Outback and his team to recover the dangerous villain. Meanwhile, Zartan and COBRA COMMANDER formulate a plan that would move COBRA HQ to another coast. The villains take center stage in this issue of G.I. JOE: A Real American Hero!
FC • 32 pages • $3.99
---

G.I JOE: THE COMPLETE COLLECTION, VOL. 1
Larry Hama (w) • Herb Trimpe (a)
Presenting the full run of original A REAL AMERICAN HERO and SPECIAL MISSIONS tales, placed in proper reading order and collected in handsome hardcover volumes. Presiding over this project is legendary pop culture aficionado Mark W. Bellomo.
HC • FC • $49.99 • 300 pages • 7" x 11"
---

G.I. JOE #17
Chuck Dixon (w) • Alex Cal (a & c)
DEEP TERROR Epilogue! COBRA's scheme to take the Joes public goes viral. America's most secret fighting force is on the run! COBRA COMMANDER dispenses his own rewards for failure. Copperback a prisoner of the JOEs! And SCARLETT learns that SNAKE EYES is still alive and confronts Helix in an encounter only one of them may survive!
FC • 32 pages • $3.99
---

COBRA #17
Mike Costa (w) • Werther Dell'Edera (a) • Antonio Fuso (c)
They call him… BLUDD! Major Bludd takes center stage in this spine-shattering issue! What makes Bludd tick… and who does he have to kill next? Locked in prison, he's still deadly—so who wants him free?
FC • 32 pages • $3.99
---

SNAKE EYES & STORM SHADOW #17
Chuck Dixon (w) • Atilio Rojo (a) • Ken Loh (c)
Is SNAKE EYES an asset to the Arashikage Clan or a liability? That's a question that STORM SHADOW is asking himself as the wrath of Serpentor is turned upon them and SNAKE EYES becomes a target for the G.I. JOEs! Blistering ninja action and intrigue! Nothing is what it seems and loyalties are questioned as the life of the most dangerous JOE takes a turn!
FC • 32 pages • $3.99
---

DANGER GIRL/G.I. JOE #3
Andy Hartnell (w) • John Royle (a) • J. Scott Campbell X 2 (c)
It's the most dangerous event of the summer, and the action continues right here! Abbey Chase has been working behind enemy lines as an Agent of COBRA, but when the G.I. JOE strike force puts the Danger Girl team in the line of fire, who will Abbey side with to win the battle?
*2 regular covers will be shipped in a 4-to-1 ratio (4 J. Scott Campbell, 1 J.Scott Campbell G.I. JOE character cover)
FC • 32 pages • $3.99
---


POPEYE #5
Roger Langridge (w) • Vince Musacchia, Tom Neely (a) • Bruce Ozella (c)
Popeye and the gang travel to King Blozo's kingdom to help find a spy at the royal palace—only to find themselves in the middle of a war! Can even Popeye stop a hundred Palookas, each one nearly as tough as he is? PLUS: More shenanigans with Sappo and Wotasnozzle!
FC • 32 pages • $3.99
---

CLASSIC POPEYE #2
Bud Sagendorf (w & a & c)
Classic Popeye stories by Bud Sagendorf, the long-time assistant to Popeye's creator E.C. Segar, are back! A meticulously faithful reprint of Popeye #2 from May-June 1948 includes a long rousing action-packed story "That's What I Yam" starring Popeye and Swee'pea and a howler comic "Easy Money" $tarring Popeye and his Pappy. Plus you'll find those glorious Sagendorf one-pagers in the cartoonist's gloriously funny writing and drawing style! Sagendorf comics are great comics!
FC • 52 pages • $3.99
---

GHOSTBUSTERS #13
Erik Burnham (w) • Dan Schoening (a & c)
After one more quick stop to help a friend in the Windy City, the Ghostbusters arrive back in New York, expecting a backlog of cases to clear through. Instead, things are strangely quiet on the supernatural front, and it's all thanks to the city's newest paranormal investigation and elimination service! Who is this new team? Find out in the lucky 13th issue of GHOSTBUSTERS!
FC • 32 pages • $3.99
---

GHOSTBUSTERS OMNIBUS
Keith Champagne, Scott Lobdell, Dara Naraghi, Keith Dallas & Jim Beard, Peter David, James Eatock, Rob Williams (w) • Tom Nguyen, Ilias Kyriazis, Salgood Sam, Josh Howard, Dan Schoening, & Diego Jourdan (a) • Nick Runge (c)
Get ready GHOSTBUSTERS fans, because three complete tales are collected here in the Ghostbusters Omnibus! Including "Displaced Aggression," "The Other Side," and "Haunted Hollidays," you'll see Peter, Ray, Egon, and Winston travel across time, venture to hell, and celebrate the holidays as only the Ghostbusters can.
TPB • FC • $24.99 • 280 pages • 6" x 9"
---

THE ROCKETEER: CARGO OF DOOM #2 (OF 4)
Mark Waid (w) • Chris Samnee (a & c)
The 30th anniversary of the Rocketeer continues! Cliff finds himself the target of a scheme to "liberate" the jetpack from him as a pair villains plot to stop him from interfering with their nefarious plans. Meanwhile, Cliff's secret identity, rather precarious at the best of times, is discovered by someone outside of his immediate circle.
FC • 32 pages • $3.99
---

ROCKETEER ADVENTURES, VOL. 2
Mark Guggenheim, Peter David, Stan Sakai, Paul Dini, Walter Simonson, Tom Taylor, David Lapham, Louise Simonson, Kyle Baker, Michael Golden, David Mandel, & Matt Wagner (w) • Sandy Plunkett, Bill Sienkiewicz, Stan Sakai, John Paul Leon, Bill Morrison, Colin Wilson, Chris Sprouse, Karl Story, Walter Simonson, Kyle Baker, J Bone, Eric Canete, & Michael Golden (a) • Darwyn Cooke (c)
The second all-new, all-great Rocketeer Adventures anthology is crammed with over 15 great creators doing terrific Rocketeer stories!
HC • FC • $24.99 • 136 pages
---


KISS #4
Tom Waltz (w) • Casey Maloney (a) • Xermanico, Maloney (c)
The Elder's cosmic soldiers known as the Four-Who-Are-One are reunited just in time to face off against the Destroyer's evil proxy, General Black Diamond, who has unleashed his secret weapon! Will the combined might of the Demon, Starchild, Catman, and Celestial be enough to defeat the world's first dragon in 100,000 years?
*2 regular covers will be shipped in a 1-to-1 ratio
FC • 32 pages • $3.99
---


THE CROW #3
John Shirley (w) • Kevin Colden (a) • Kyle Hotz (c)
"Dark Bird, Lonely Island." Shibishii: "Lonely Island," off the coast of Japan. The entire island, a high-security fortress and a comfortable retreat at once, belongs to Biotrope International. Surely the Crow can't get them there, can he? He can and will, in search of Hendra, the woman who stole his beloved's body. He searches, too, for the shadowy Soro, the man who hides secrets within secrets… and uses the electronic to mask the demonic…
FC • 32 pages • $3.99
---

JOHN BYRNE'S NEXT MEN, VOL. 3: AFTERMATH
John Byrne (w & a & c)
It ain't over till it's over. Project Next Men has been undone, the Past has been rewritten… but it's never easy to reshape the Fourth Dimension.
HC • FC • $21.99 • 104 pages
---

BATTLE BEASTS #3 (OF 4)
Bobby Curnow (w) • Valerio Schiti (a & c)
Bliss and the Beasts close in on the all-powerful Dread Weapons. Along the way, Vorin reveals the history of his kind, although fellow heroes Merk and Gruntos recall slightly different versions of the past! Meanwhile the United States military begins a full-scale attack to contain the murrauding Beasts! Action, intrigue and secrets revealed, all in this issue!
FC • 32 pages • $3.99
---

INFECTED #3 (OF 5)
Chad Minshew, Scott Sigler (w) • Chad Minshew (a & c)
The horror swirls around Perry Dawsey as the parasite buried deep in his body start to talk to him – the voices in his head are real. Margaret Montoya is thrust out of the lab and onto the front lines as she accompanies Agent Otto to a house filled with the infected. Dew Phillip's nose leads him to another pile of corpses, while Perry's neighbor Al Turner can hear Perry screaming and plots to make him stop; Al could soon be another festering victim.
FC • 32 pages • $3.99
---


MARS ATTACKS #4
John Layman (w) • John McCrea (a & c)
The invasion has begun! The first stories of an all-new MARS ATTACKS universe are here, bringing outrageous action and dark humor to the comics page. Eisner-winning writer John Layman (Chew) is joined by Eisner-winning artist John McCrea (Hitman) to sound the alarm. Beware! The Martians are here!
FC • 32 pages • $3.99
---


THE CAPE: 1969 #3 (OF 4)
Joe Hill, Jason Ciaramella (w) • Nelson Daniel (a) • Zach Howard (c)
Something dark and sinister has awakened inside Captain Chase. The brutal murder of a fellow captive has seemingly, somehow, transferred that power to Captain Chase. A power that began as peaceful, but soon becomes something else—something filled with hate, desiring of destruction, and hungry for revenge. With these new-found powers, Captain Chase takes to the sky and aims to settle the score with the man responsible for his torture and the death of his crew. Explore your dark side.
FC • 32 pages • $3.99
---

SMOKE & MIRRORS
Mike Costa & Jon Armstrong (w) • Ryan Browne (a & c)
ENTER A WORLD OF MAGIC! Stage magician Terry Ward is thrust into a world where magic—not technology—rules, and forced to use trickery and illusions to survive! But will that prove to be enough when the dangers of the world start compounding, and how can a sleight of hand artist compete with users of practical spells?
TPB • FC • $19.99 • 128 pages
---

THE POUND: GHOUL'S NIGHT OUT #1 (OF 4)
Stephan Nilson (w) • Ibrahim Moustafa (a & c)
The Pound is officially open for business. Scottie and Howie have their hands full. A creature is harassing park-goers. The Government is investigating them. Ghouls are rebelling, and, if things couldn't get worse, Scottie's mother-in-law has decided to visit. Guest starring PROOF's Agent John "Proof" Prufrock!
FC • 32 pages • $3.99
---

30 DAYS OF NIGHT #10
Steve Niles (w) • Christopher Mitten (a & c)
Fright-master Steve Niles continues the all-new, critically acclaimed 30 DAYS OF NIGHT ongoing series! Eben turns the screw in the neck of the city of Los Angeles as he hunts down Alice and seeks to make peace with the European vampires. He is growing his army and choosing his target. He will not stop until the world is in chaos…
FC • 32 pages • $3.99
---

JERICHO: SEASON 4 #3
Kalinda Vazquez (w) • Andrew Currie (a) • Tim Bradstreet, Photo (c)
John Smith's dominance in Jericho continues as his plans for the ASA begin to take shape. With Hawkins imprisoned, Jake is left to deal with the duplicitous Smith on his own, and finds himself having to risk everything in order to carry out a secret agenda. Meanwhile, ASA mole Palmer ingratiates himself with Major Beck, dangling the perfect bait in the hopes that Beck will grow to trust him—and tell him everything. But while tensions grow high in Jericho, danger pervades beyond it. Little does Hawkins know, his worst nightmares are about to come true when Allison is thrust into grave jeopardy.
*2 regular covers will be shipped in a 1-to-1 ratio
FC • 32 pages • $3.99
---

LOVE AND CAPES: WHAT TO EXPECT #2 (OF 6)
Thom Zahler (w & a) • Thom Zahler & Sean Tiffany (c)
As their pregnancy continues, Mark and Abby are starting to worry what kind of parents they'll be. So when Abby's cousin Olivia needs a babysitter, they jump at the chance to have an adventure in babysitting. How will they do? Meanwhile, Darkblade and Amazonia make a big decision about their relationship.
FC • 32 pages • $3.99
---

WOODWORK HC
Wallace Wood (w & a & c)
Wally Wood is one of the most celebrated comic artists of all time. His legendary career runs from the glory days of EC Comics' extraordinary line of science fiction titles to the brilliantly subversive Mad Comics (and, later, Mad Magazine). He produced extraordinary illustrations for magazines like Galaxy after EC folded, and worked on the some of the most fondly remembered stories published by Marvel Comics in the mid 1960s. He also co-created the Thunder Agents and was a pioneer in self-publishing. This massive tome is the American edition of a museum catalogue that accompanied a gigantic career retrospective on display in De Palma, Spain in 2010, the largest such exhibit ever devoted to this incredible artist.
HC • FC • $59.99 • 352 pages • 9.5" x 11.5"
---

GASOLINE ALLEY VOL. 1 HC
Frank King & Dick Moores (w & a & c)
The year 1964 was a momentous one in the history of Gasoline Alley—it's when Frank King officially handed the baton to Dick Moores. King continued to help plot the strip but it's Moores who takes center stage. More so than any other newspaper strip, Gasoline Alley is renowned for its strict continuity and this is our chance to see Moores—who continued writing and drawing the strip until 1986—make it his own. Forty-plus years earlier, Walt Wallet found baby Skeezix in a basket on his doorstep and in the 1964-1966 strips reproduced in this volume, Skeezix is now middle-aged and has a family of his own. For the first time since they appeared in newspapers fifty years ago, readers can enjoy these classic strips featuring Walt and his wife Phyllis, Skeezix and his wife Nina, Corky, Clovia, Slim, Avery, Mr. Pert, Joel, Rufus, and a whole cast of familiar characters.
HC • FC • $49.99 • 288 pages • 11" x 8.5"
---

LOAC ESSENTIALS 1: BARON BEAN HC
George Herriman (w & a & c)
Introducing a new series that will reprint early daily newspaper strips that are essential to the history of comics. Each volume will contain a full year of dailies. By reproducing the strips one per page in an oblong format, it allows us to have the experience of reading the comics one day at a time. The inaugural volume of Library of American Comics Essentials features Baron Bean by one of the greatest of all comic strip stars: George Herriman. The creator of Krazy Kat drew Baron Bean for three years, beginning in 1916. Included in this volume is the first year. Two additional books will complete the series. Future LOAC Essentials titles include The Gumps and Polly and Her Pals.
HC • BW • $19.99 • 328 pages • 11" x 4"
---

ARCHIE: BEST OF SAMM SCHWARTZ VOL. 2 HC
Various (w) • Samm Schwartz (a & c)
The great Samm Schwartz is profiled once again in a beautiful, oversized hardcover. Schwartz' superlative work has treasured fans throughout the country and this book picks out some of his most popular stories. Whether you are a new comer to the magic of Samm Schwartz, or have followed him for 50 years, this is one collection that is sure to bring you and your children and your children's children hours of entertainment.
HC • FC • $24.99 • 152 pages • 8.5" x 11"
---

THE PICTURE OF DORIAN GRAY HC
Oscar Wilde (w) • S.P. Shearon (a & c)
Oscar Wilde's only published novel, the fascinating, dark tale of Dorian Gray is re-presented in this handsome hardcover edition. Featuring powerful illustrations from S.P. Shearon, Wilde's tale of aestheticism and duplicity is an excellent addition to IDW's growing library of illustrated classics.
HC • PC • $17.99 • 220 pages • 6" x 9"
---
– The Comic Book Critic