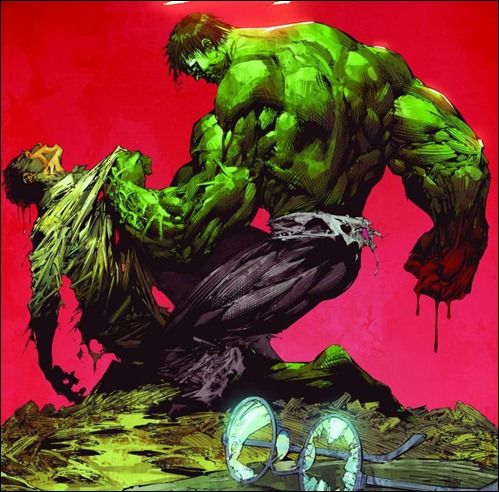 Back in May 2011, Marvel announced the end of Greg Pak's run on Incredible Hulks and the cancellation of the title. Like most Marvel titles lately, all you have to do is wait a few months and they'll come back as a newly numbered series with a fresh creative team. This time it's The Incredible Hulk #1 written by Jason Aaron and illustrated by Marc Silvestri due out in December 2011.
According to Jason Aaron, "Incredible Hulk #1 is the first step on the road to the biggest, craziest Hulk vs. Banner throwdown in Marvel history."
Newsarama's Albert Ching has an exclusive and lengthy interview with Jason Aaron that's definitely worth a read!
Press release
Marvel Architect Jason Aaron joins forces with legendary artist Marc Silvestri to redefine the Hulk in an all new ongoing series. You've seen the Hulk in space, you've seen the Hulk go to war and you've seen him as one of the Worthy—but now it's time for most unpredictable, incredible Hulk story yet!

After the events of Fear Itself, the Hulk has gone into hiding, seemingly safe from a world that hates and fears him. But when government agents comes knocking at his door, the Hulk has no choice but to return to war against the one man whose existence threatens the safety of every living creature on the Earth. The one man who's existence could doom the Hulk himself.

And that man is Bruce Banner.

Now separated into two men, the Hulk and Banner exist worlds apart but one climactic battle will bring them face to face again—and leave the Marvel Universe shaking in its wake.
-The Comic Book Critic