Preview: Josie and the Pussycats #4 – "Three Cats By A Fountain" (Archie)
Josie and the Pussycats #4 Preview (Archie)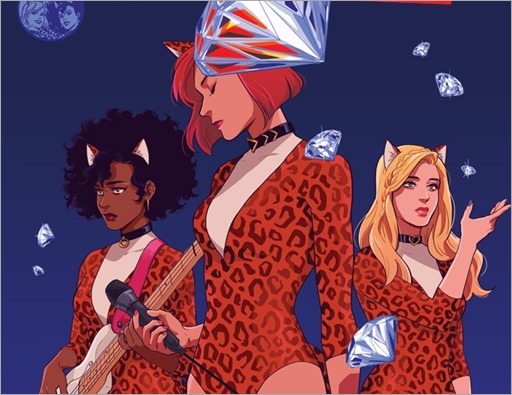 Here's a short preview of Josie and the Pussycats #4 by Marguerite Bennett, Cameron DeOrdio, Audrey Mok, & Kelly Fitzpatrick, on sale February 1st, 2017 from Archie Comics.
JOSIE AND THE PUSSYCATS #4
Writers: Marguerite Bennett, Cameron DeOrdio
Artists: Audrey Mok, Kelly Fitzpatrick, Jack Morelli
Cover: Audrey Mok
Variant Covers: Sanya Anwar, Michael Walsh
The Pussycats' careers really start to take off as they head off to Rome for glitz and glamour! But what happens when a gang of diamond thieves bursts onto the scene? And will Josie and Alan M's dynamic sparkle under the heat and pressure of life on the road? Or will Josie's hard-as-diamonds ambition CUT THEM ALL TO RIBBONS?!
Find out in Issue 4, "THREE CATS BY A FOUNTAIN."
On Sale Date: 2/1
32-page, full color comic
$3.99 U.S.