Justice League: Doom Animated Film Trailer!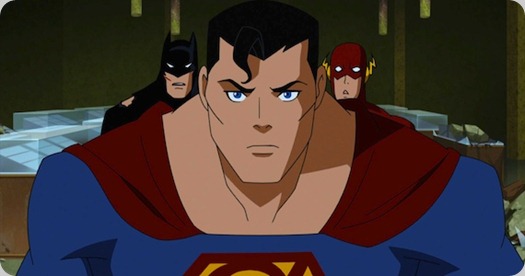 The teaser trailer for Justice League: Doom was shown on Friday October 14th at the NYCC '11 DC Animated panel.
Justice League: Doom is the last DCU Animated movie to be written by the late, great Dwayne McDuffie who passed away earlier this year. The animated film is based on Mark Waid's Tower of Babel storyline from the pages of JLA. The original villain in the story, R'as al Ghul, is replaced with the immortal Vandal Savage and his Legion of Doom.
Cyborg is a member of the Justice League and the plot revolves around Batman's contingency plans for taking down each member of the JL "in case they go bad." Of course those plans fall into the wrong hands – The Legion of Doom – who is comprised of Vandal Savage, Bane, the Royal Flush Gang, Star Sapphire, Mirror Master, and others.
The film is executive produced by Bruce Timm (Batman: Year One) and directed by Lauren Montgomery (Batman: Year One), who is also credited as producer alongside Alan Burnett (Batman: The Animated Series). Casting and dialogue direction is handled by Andrea Romano (Batman: Year One)
The voice actors, as usual, are top notch: Tim Daly as Superman, Nathan Fillion as Green Lantern, Kevin Conroy as Batman, Michael Rosenbaum as Flash, Susan Eisenberg as Wonder Woman, and Carl Lumbly as J'onn J'onzz/Martian Manhunter. Bumper Robinson joins the cast as Cyborg and David Kaufman also reprises his of Jimmy Olsen.
The villain voice actors are: Phil Morris as Vandal Savage, Olivia d'Abo as Star Sapphire, Alexis Denisof as Mirror Master, Carlos Alazraqui as Bane, Paul Blackthorne as Metallo, and Claudia Black as Cheetah.
Justice League: Doom is scheduled to be released in early 2012.
– The Comic Book Critic