The Twitter initiative called "While They Live Wednesday" was started by Tom Brevoort, and using the hashtag #whiletheylive, fans can celebrate iconic industry professionals while they are still alive to appreciate the kind words. We at Comic Book Critic think this is a great idea and have made it a weekly feature.
The celebrated industry pro for Wednesday April 27th, 2011 is Joe Sinnott.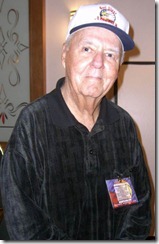 In the annals of comic book lore, Joe Sinnott's name will forever be linked with Jack Kirby's. Kirby and Sinnott's run on the Fantastic Four was amazing and they were one of the best artist-inker teams ever to draw comics. Joe was so prolific, his name seemed to be on every book that Marvel released in the mid to late 1960's. He worked on all the major characters and did a great job finishing the pencils he was given.
Besides the Kirby collaboration, one of my all time favorites is when he inked Jim Steranko's Nick Fury, Agent of S.H.I.E.L.D. series. Regardless of who he inked, Joe's style brought out the best in the artists' pencil work.