Marvel Comics is being very secretive on the new series that reunites Jeph Loeb and Ed McGuinness (HULK, Superman/Batman). Currently titled _ _ _ _ _ Reborn, the series is set for a December 2011 release with more info to come at the San Diego Comic Con on Saturday July 23rd.
There is a great amount of speculation floating around about the title of the series. Some say the FIVE spaces are the number of missing letters in the title, while others purport that it's just a blank placeholder and a ruse by Marvel to keep everyone guessing. A few rumors propose that the character that is to be reborn could be The Torch, Cable, or Bucky, among many others. But this is just wild speculation at the moment.
Who do you think should be reborn?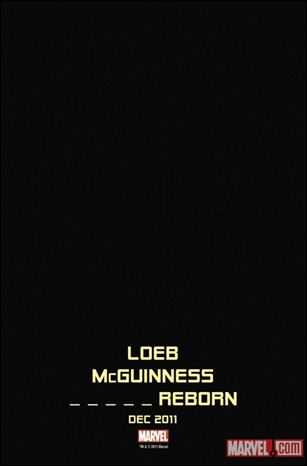 Megastars Jeph Loeb and Ed McGuinness (HULK, Superman/Batman) reunite this December for an action packed story of epic proportions. Want to know what it is? Find out in two weeks at the Cup O' Joe Panel (Saturday, July 23 at 2:45PM PST) during Comic Con International in San Diego!

Can't make it to the convention? Follow along on the Marvel Events App & events.marvel.com, the best way to get exclusive videos, real-time announcements from the convention floor and up-to-the-minute panel, in-booth, and signing schedules of all your favorite Marvel creators!
– The Comic Book Critic