Lola Marie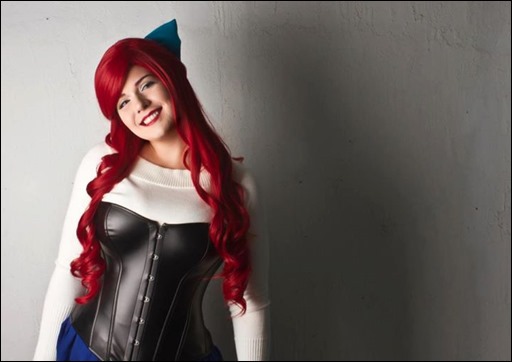 There are many talented models and performers who bring their love & enthusiasm to dressing up as their favorite characters. Comic Book Critic will regularly showcase a performer who embodies this spirit of cosplaying.
Whether it's creating the costume from scratch, altering the appearance of an existing one, or just getting into character, these performers spend a lot of time and effort on their craft. As much as we all enjoy seeing our favorite fictional characters represented in real life, let's not forget the behind-the-scenes work that goes into that portrayal.
One thing is for certain though, their love of cosplaying shines through in their work.
The Comic Book Critic Featured Cosplayer Interview this week is:
Lola Marie from Miami, FL / San Juan, PR

While Lola Marie has only been cosplaying for a year, she's got some really great costumes in her arsenal. She approaches her work with enthusiasm and an artist's background… and with that beautiful smile, how could you not love it?
We get a little background from Lola on her work and the things she enjoys about cosplaying.
I see that you've been cosplaying for a couple of years and have quite a variety of costumes. What was your first costume?
Although I've been creating fictional characters through makeup a couple of years back, I started cosplaying exactly a year ago. My first cosplay, and my baby, is Zatanna Zatara.
What made you decide cosplaying was something you wanted to pursue?
I knew about the cosplay world, but I never thought I was going to cosplay 'til I met my actual boyfriend. He's a cosplay photographer and a former cosplayer. I remember I told him that I will only cosplay once (Zatanna) just to learn about the experience and to see what the entire buzz was about. After making Zatanna, I fell deeply in love with cosplaying, so I decided to keep making cosplays. :D
Do you do any modeling work outside of cosplay?
Not exactly. I'm only a cosplayer, but I do have many photographer friends and I'm always a part of their crazy ideas and projects.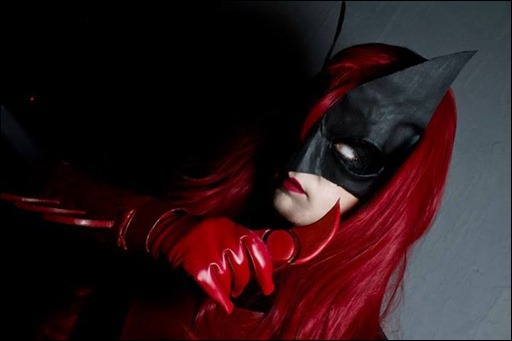 Are all of your costumes made by you and which one was the most satisfying to create?
Most of them yes, and if I buy the parts, I always modify them. I think every cosplayer should have a part in the creation of the cosplay, not only will this help appreciate the art a lot more, but you will wear the cosplay proudly knowing that you made it. I think the most difficult cosplay and the most satisfying one was Batwoman.
Do you find that having an art and makeup background makes it easier for you to create your work?
It helps, but does not make it easier. I learned the makeup by myself and the art part of it. I'm a painter, so I've never really applied the art techniques in my cosplays. In reality it's the other way around – making a cosplay has opened many doors for me, I started using new materials that I've never used before and it has helped me develop ideas more easily. So I must say cosplaying has had an influence in my career as an artist.
Who are some your favorite characters (cosplay, comics, movies, games, in general, etc.)?
Wow, this is a broad question. I will narrow it down a little cause I have too many favorite characters. Zatanna (DC Comics), Arya and Daenerys (Game of Thrones), Maleficent (Sleeping Beauty), Batman, Joker, Lilith (Borderlands) and many, many more.
Do you choose the characters to portray because they fit your personality and do you like to challenge yourself by playing an altogether different personality from yours?
I think is a bit of both. All the characters I portray are very different from each other, but each one has something that I identify myself with. Nevertheless each one of them is a challenge; they are so different from each other.
What do you like to do in your spare time?
If I'm not painting or drawing, I'm reading, playing videogames, or just adventuring.
Do you read comics or play video games and which are your favorites?
I love both of them. My favorite videogames are: Borderlands, Skyrim, Assassin's Creed, and Grand Theft Auto. My favorite comics are Kingdom Come and X-Force: Sex and Violence.
You seem to be having a great time, is there anything that bothers you about cosplaying in public?
I've never had any problem with it, but there is always someone that disrespects not only your work, but you as a person as well. The best thing you can do is to ignore them and keep doing your thing.
On the other hand, what do you enjoy the most about it?
My favorite part is the craftsmanship. But I must confess that having the opportunity of turning into someone else for a day and getting recognized around not only as the character, but as yourself, feels amazing.
What's one of your most memorable moments while cosplaying?
Wow, I have many. But there is one that I will never forget: I was having a photo-shoot at the beach as Ariel (The Little Mermaid) and all these little kids came running asking me if I was Ariel and hugging me and wanting to take pictures.
This day was one of the best days of my life.
Who are some of your favorite cosplayers?
I must say Yaya Han she is just flawless
Although you've been doing this for a short period of time, have you noticed any changes to cosplaying as it gets more mainstream?
As cosplay becomes more mainstream, you can clearly see two variants. One is that there are people who make a large quantity of work, but not of high quality; then there are those who don't make a cosplay every two weeks, but when they do those cosplays are simply art.
Yeah, I think that's it, cosplay is slowly becoming a form of art and craftsmanship.
What advice do you have for someone just starting out?
You're up for a bumpy but amazing ride. Just give your all and wear it with pride.
If you could change anything since you started, what would it be?
I wouldn't change a single thing. It all happened how it supposed to happen. And it was all amazing since day one.
What does the future hold for you?
So many cosplays, so much work, I will soon open a store selling prints, props and handmade figures. :D So there are many things to come.
If you'd like to see more of Lola Marie or keep up with her cosplaying adventures, check out the links below. Give her Facebook a like if you enjoy her work!
Lola Marie Links
You can see more of her work at these links:
Instagram
DeviantArt
Tumblr
Photo Credits
ParLit Photography
Share your thoughts about Lola Marie in our comments section below!
– The Comic Book Critic