ARCHIE COMICS Relaunches Flagship Series With New 'ARCHIE #1,' Announces Expansive 75th Anniversary Plans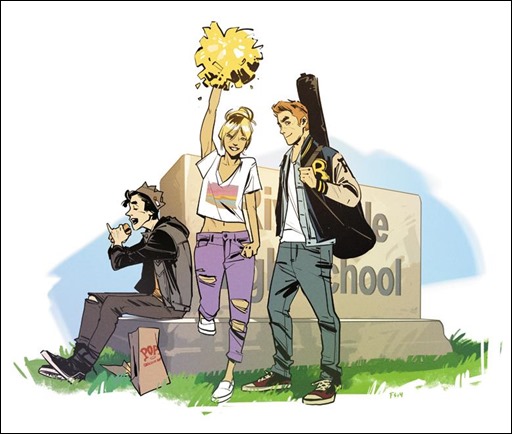 NOT FINAL Archie promotional artwork by series artist Fiona Staples.
Blockbuster team of Mark Waid and Fiona Staples to reimagine iconic characters
In celebration of their 75th anniversary, Archie Comics have announced big plans for their flagship title and one of the longest running comic series in history – Archie is getting an origin story!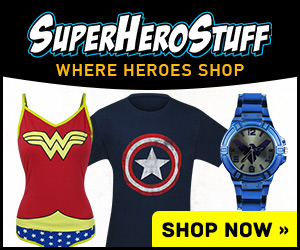 Archie #1 will feature the first ever Archie Andrews origin story by the acclaimed creative duo of writer Mark Waid and artist Fiona Staples in 2015.
Along with the Archie origin, Marc Eckō will create a line of Archie themed apparel, "Riverdale," a one hour drama will air on FOX TV, and many other surprises will be unveiled throughout the year.
Press Release
Archie Comics, the acclaimed and bestselling comic book publisher that is home to some of the best-known pop culture creations in the world, including Archie, Jughead, Betty & Veronica, Josie & The Pussycats, Sabrina the Teenage Witch and the hit AFTERLIFE WITH ARCHIE and CHILLING ADVENTURES OF SABRINA horror series, announced today that the company will relaunch one of the longest-running comic series in history with a new direction spearheaded by two of the most acclaimed and best-selling creators in comics today.
ARCHIE #1, hitting next year from writer Mark Waid and artist Fiona Staples, will reenergize the story of Archie and his friends, presenting for the first time ever the origins of everyone's favorite redheaded teen and his friends while showcasing the beginnings of the historic love triangle between Archie, Betty and Veronica.
The new series will focus on the strengths of the popular characters, their world and harken back to the comic's humorous and edgier roots, said Archie Comics Publisher/CEO Jon Goldwater.
"The Archie characters aren't in need of a tune-up, 'shocking change,' or revision. These characters have stood the test of time and resonate to this day – we've proven that over the last six years," Goldwater said. "What ARCHIE #1 will do, though, is bring together two of the most talented creators in comics in Mark Waid and Fiona Staples and create a surprising and definitive take on Archie's origin – a story that has never been. The book will bring back some of the bite of Archie's original tales in a modern, forward-looking manner, while still retaining the character's all-ages appeal. What better way to celebrate 75 years of Archie Andrews?"
Waid, no stranger to major comic book storylines – having penned DC's Kingdom Come, often cited as one of the best comic series in history among many sterling credits – will bring his knack for reinvigorating long-running properties to create a comic that not only presents Archie and his friends squarely in the present, but also turns up the humor. The story will get its visual personality from the unique direction and presentation of Fiona Staples, the artist on the perennial bestseller and critical darling comic series Saga.
ARCHIE is poised to combine two of the industry's biggest and most innovative talents as they define some of pop culture's most memorable characters for fans of all ages.
The groundbreaking relaunch kicks off a bold and multi-platform celebration of 75 years of Archie starting in the latter half of 2015 and rolling through the anniversary year of 2016. The "Archie 75" celebration will include:
"Riverdale," a one-hour drama written by Archie Comics Chief Creative Officer Roberto Aguirre-Sacasa based on the iconic Archie comic book characters will debut on Fox, produced in tandem with Warner Brothers Studios and studio-based Berlanti Productions. Set in the present, the series offers a bold, subversive take on Archie, Betty, Veronica, and their friends, exploring the surreality of small-town life and the darkness and weirdness bubbling beneath Riverdale's wholesome facade.
Marc Eckō, the hugely successful tastemaker and fashion designer, has signed on to design an exclusive line of Archie themed apparel for men, from teens to adults, under the Unlable.ME brand. First becoming a nationwide name in the early 1990s, Marc Eckō's clothing lines have generated billions of dollars at retail since that time, and Fall 2014 marks the return of Marc Eckō as the Operator and Lead Designer of his eponymous label, Marc Eckō Cut & Sew.
A robust and diverse publishing initiative that will feature 75th anniversary-themed periodical, graphic novel, digital and specialty product geared toward new and longtime fans. Editorially, fans can expect to see a targeted digest program retaining the "classic" Archie look and style and the expansion of the world being built in the new ARCHIE series via additional ongoing titles.
– The Comic Book Critic