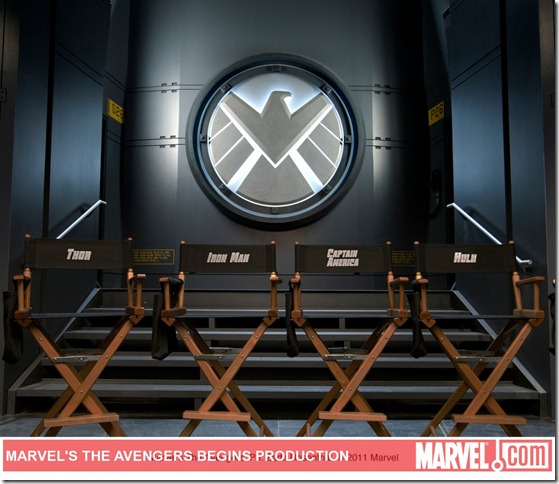 Marvel Studios' new film 'Marvel's The Avengers' began shooting today in Albuquerque, New Mexico and will continue on to Cleveland and New York City for principal photography. Joss Whedon, who wrote the screenplay, will also direct the film. Robert Downey, Jr., Chris Hemsworth, Chris Evans, Scarlett Johansson, Clark Gregg, Jeremy Renner, and Samuel L. Jackson will reprise their roles as Iron Man, Thor, Captain America, Black Widow, Agent Coulson, Hawkeye, and Nick Fury respectively while Mark Ruffalo portrays the Hulk.
The film is set to be released on May 4th, 2012 and is the first Marvel feature to be fully owned, marketed and distributed by Disney.
According to Marvel.com:
"Marvel's The Avengers" is being produced by Marvel Studios' President, Kevin Feige, and executive produced by Alan Fine, Stan Lee, Louis D'Esposito, Patty Whitcher, and Jon Favreau. Marvel Studios' Jeremy Latcham and Victoria Alonso will co-produce.

The creative production team also includes Oscar nominated director of photography Seamus McGarvey ("Atonement"), production designer James Chinlund ("25th Hour"), Oscar winning costume designer Alexandra Byrne ("Elizabeth: The Golden Age"), Oscar winning visual effects supervisor Janek Sirrs ("Iron Man 2," "The Matrix"), visual effects producer Susan Pickett ("Iron Man," "Iron Man 2"), stunt coordinator R.A. Rondell ("Superman Returns"), and four-time Oscar nominated special effects supervisor Dan Sudick ("Iron Man," "War of the Worlds"). The editors include Oscar nominated Paul Rubell ("Collateral") and Jeffrey Ford ("Crazy Heart").
A good film always starts with a good script and is polished off by the director. Since this is a massive undertaking, I'm hoping that Joss Whedon can pull off both. Like it or not, the future of superhero movies will hinge on how the films of 2011-2012 do in theaters. The success of this year's 'Thor' and 'Captain America' may decide whether 'Marvel's The Avengers' will succeed or fail. Let's all hope for success.