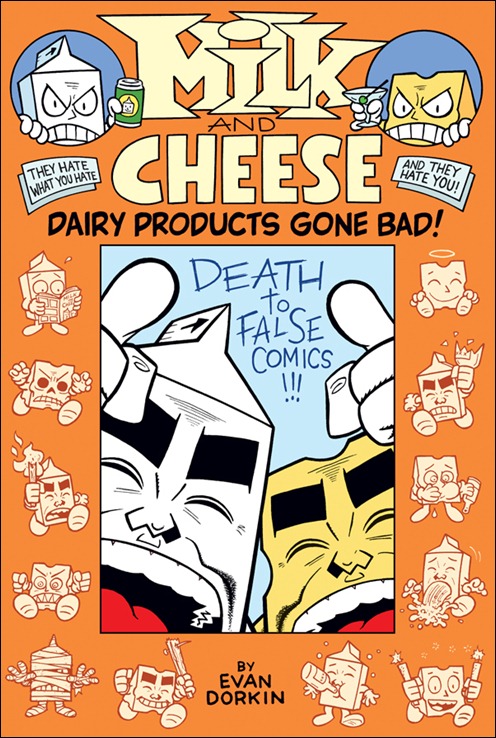 All fans of Evan Dorkin's Milk and Cheese will be having a wonderful Christmas this year. Dark Horse Comics will publish the Milk and Cheese: Dairy Products Gone Bad Hardcover with a release date of December 21st, 2011.
The hardcover, measuring in at 7" x 11" and 240 pages, should leave a smile on every fan's face – this writer included. With a retail price of $19.99, this book is a bargain considering how much fun is included within its covers and, at that price, would make a wonderful Christmas gift for all your friends!
The Dark Horse early solicitation didn't have many details yet on the book:
A carton of hate. A wedge of spite. A comic book of idiotic genius. The Eisner Award-winning dairy duo returns in this deluxe hardcover collecting every single stupid Milk and Cheese comic ever made from 1989 to 2010, along with a sh*t-ton of supplemental awesomeness. This has everything you need! Don't judge it—love it! Or else!
"Evan's calcium-rich creations are guaranteed to spread lactose intolerance everywhere."—David Mazzucchelli (Asterios Polyp, Batman: Year One)
Evan Dorkin had more details on his site:
– The book will feature over 80 pages of comics that have not been collected before.
– There will be a 24-pg color section featuring all the color M&C strips, a cover gallery, pin-ups, merchandise art, trading cards, etc.
– There will also be a 24-pg B&W supplemental section featuring pin-ups, t-shirt designs, and other art, etc.
– The book will include the rare 1997 M&C Special Edition 16-pg mini-comic featuring the expanded "Darth Vader Overdrive" strip and extras.
– The only M&C-related comic that will not be in the collection is the M&C/Pirate Corp$! strip from Munden's Bar Annual #2.
– Some very swell folks gave us some very nice back cover quotes.
– The book should be hefty enough to hurt anyone hit over the head with it.
– The book should be pretty freaking awesome.

There will be more information on the book next week as more formal PR rolls out from Dark Horse — I think I'm doing some interviews over the weekend and those should be posted pretty quickly, among other things. That being said, the greatest PR Milk and Cheese ever had was reader word-of-mouth, so I'm hoping some of the M&C faithful out there will take it upon themselves to spew the good word about the Dairy Products Gone Bad all over the god-damned, stinking internet until it chokes.
Put this on your calendar now and let all your friends know, Christmas will be here sooner than you expect!
– The Comic Book Critic