on
July 21, 2013
and modified on July 21, 2013.
IDW Unveils RAGNARÖK by Walter Simonson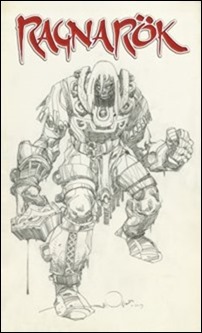 A New Series From The Legendary Creator, Plus Star Slammers Collected!
Ragnarök, an all-new creator-owned series written & drawn by Walter Simonson, comes to IDW Publishing in 2014!
Simonson had a legendary run on Thor in the 1980's and with his take on Norse mythology, this is a series to keep your eyes on.
Press Release
IDW publishing is proud to announce an all-new creator-owned series by Walter Simonson! Ragnarök will explore Simonson's beloved Norse mythology, as well as much, much more. Coming in 2014, Ragnarök will be written and drawn by Simonson, and will feature iconic deities and classic tales with the devastatingly beautiful artwork that is synonymous with Simonson.
"Scott Dunbier and I first talked about me working on a creator-owned book involving the Norse gods 15 years ago, but as many of my former editors can tell you, I've always regarded deadlines as useful fictions," said writer/artist Walter Simonson, "So here we are… finally! All I can say is that I've loved the stories of the Viking gods since I was eight. I am thrilled that with IDW's help and support, I'm launching an ongoing series of stories built around a new vision of some old friends. And enemies."