Five Pages from BAD ASS #1, the Wild New Series Due in Stores This January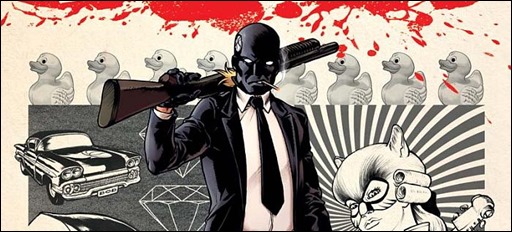 Here's a 5 page preview of Bad Ass #1 by writer Herik Hanna & artist Bruno Bessadi, courtesy of Dynamite Comics – on sale in January 2014.
Press Release
Dynamite is proud to share a five page preview of interior artwork from the first issue of Bad Ass, a four-issue limited series scheduled for release starting in January 2014.
Bad Ass is the brainchild of writer Herik Hanna and artist Bruno Bessadi, celebrated for its "evil genius, sinister wit, and wild abandon." Bad Ass introduces Dead End, an unstoppable vigilante who may claim to be a masked avenger… but he's a villain through and through, with a cause even greater than serving justice: serving himself.
As part of Dynamite's initial announcement regarding the new series, artist Bruno Bessadi had described the character and his motivations: "With Bad Ass, we are delivering a true tribute to — and parody of — American superhero comic books.  Dead End is an antihero with uninhibited wickedness, which — let's face it — we all secretly wish we could embrace.  It's pure black humor and action, through and through!"  Nick Barrucci, CEO and Publisher of Dynamite, has proudly compared the series to such irreverent comics as Deadpool and Kick Ass.
BAD ASS #1 (of a 4-Issue Limited Series)
By Herik Hanna and Bruno Bessadi
Diamond Item Code: NOV130951
Retail: $3.99
Intended for Mature Readers
Bad Ass #1 is solicited in Diamond Comic Distributors' Previews catalog, the premiere source of merchandise for the comic book specialty market, and slated for release beginning in January 2014.
Comic book fans are encouraged to reserve copies of Bad Ass #1 with their local comic book shop or hobby specialty store.  The entire four-issue series will also be available for individual customer purchase through digital platforms courtesy of Comixology, iVerse, and Dark Horse Digital.
– The Comic Book Critic