Preview of Gate-Way #1 (IDW)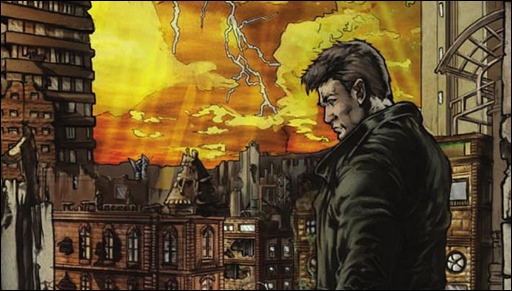 Here's a preview of Gate-Way #1 by writer Joe Halpin Sr. and artist Juanfrancisco Guerrero, courtesy of IDW Publishing – on sale January 15th, 2014.
Gate-Way #1 (of 5)
Joe Halpin Sr. (w) • Juanfrancisco Guerrero (a & c)
In a surreal setting where a red sky burns bright and the blanket of night brings a terror known only as the Dark Souls, ex-cop Jake Ryan struggles to make sense of his surroundings. Gate-Way is a story that weaves a rich tapestry of loyalty, lust, intrigue and betrayal as beggars, thieves, priests, and murderers all vie for power in a world that rewards the bold and enslaves the weak.
FC • 32 pages • $3.99
Bullet points:
· An all-new creation from Joe Halpin Sr., writer on TV's Hawaii Five-O
– The Comic Book Critic