Preview: He-Man And The Masters of the Universe #1 (DC)
He-Man And The Masters of the Universe #1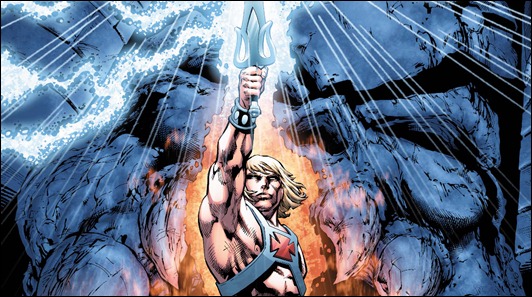 Here is a short preview of DC Comics' He-Man And The Masters of the Universe #1 due in stores on July 4th 2012!
Press release
Originally launched in the early 1980's, HE-MAN AND THE MASTERS OF THE UNIVERSE returns this July as a new six-issue miniseries. In the inaugural issue (on sale this Wednesday), Skeletor has rewritten all of Eternia's history.
Now a scrawny and simple woodsman caring for his ailing father, Adam (a.k.a. He-Man) is haunted by dreams of his past glory. With the help of his hawk, Zoar, he decides to set out on a journey to rediscover his rightful destiny. But which of Skeletor's henchmen is waiting to stop him before he can begin his quest?
HE-MAN AND THE MASTERS OF THE UNIVERSE #1 is written by James Robinson and features artwork by Philip Tan, Ruy Jose and LeBeau Underwood.
- The Comic Book Critic