Howard Nostrand's Nightmares HC Preview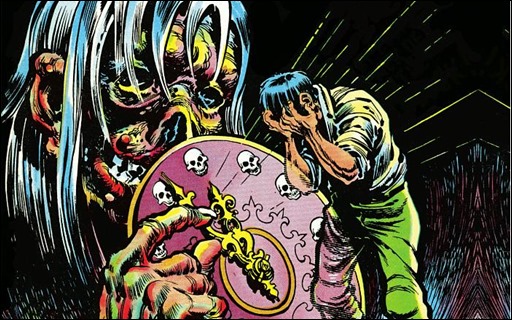 Here's a six page preview of Howard Nostrand's Nightmares, a hardcover collection of Nostrand's work during the Pre-Comics Code era, on sale December 10th, 2014 from IDW Publishing.
Howard Nostrand's Nightmares
Various (w) • Howard Nostrand (a & c)
Howard Nostrand's brilliant horror-comics art was done during the height of the criticism against comics that resulted in government investigations and the Comics Code.
Nostrand's style was an incredibly skilled, perfect mash-up of the EC artists Wally Wood and Jack Davis. Nostrand could be as innovative as Will Eisner, another influence on the artist. Five stories will be painstakingly reproduced from the rare original art!
WARNING: Not for the squeamish–as you can see from the cover Nostrand's gore could be over the top–we can't show you the insides here to protect the Diamond Previews family-friendly content.
HC • FC • $24.99 • 148 pages • 8.5" x 11" • ISBN: 978-1-63140-151-0
Bullet points:
• Another addition to the Chilling Archives of Horror!
– The Comic Book Critic