First Look at Love Stories (To Die For) #1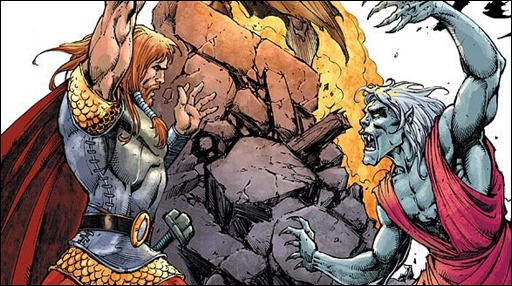 Here are six preview pages from Love Stories (To Die For) #1 by Dirk Manning, Owen Gieni, & Rich Bonk, on sale September 4th, 2013 from Image Comics.
Love Stories (To Die For) #1
Story: Dirk Manning
Art: Owen Gieni, Rich Bonk
Cover: Rich Bonk
SEPTEMBER 4
$4.99
TWO COMPLETE STORIES AT LESS THAN HALF THE PRICE OF TWO COMICS!
Two full-length stories in one double-length flip book! First, a desperate monk pits a band of savage Vikings against a pack of rabid vampires in a frantic attempt to protect an exceptionally precious child. In the second story, a woman trapped on a space station overrun by aliens must chose whether to save the second seat on her two-person escape pod for her aloof but heroic husband or for her passionate, forbidden lover.
– The Comic Book Critic