Mars Attacks Popeye in 2013!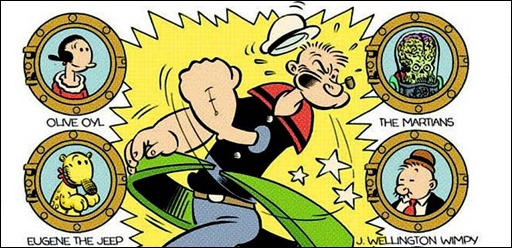 Here is a preview of Mars Attacks Popeye by Martin Powell & Terry Beatty with a cover by Ray Dillon from IDW Publishing – on sale January 2nd, 2013.
Mars Attacks Popeye
Martin Powell (w) • Terry Beatty (a) • Ray Dillon (c)
The weekly event of the year starts on the second day of the year! Mars Attacks Martians invade five different IDW timelines and universes this month, starting with their assault on Sweethaven. How can Popeye, Alice the Goon, the Sea Hag the rest of the one-eyed sailor's friends and foes possibly contend with this threat from beyond the stars?
FC • 32 pages • $3.99
*Variant covers:
Variant "Mars Attacks Miss Fury" by J. Bone!
Variant "Mars Attacks Opus" by Berkeley Breathed!
Bullet points:
· Mars Attacks IDW weekly throughout January!
· All five regular issues will feature front and back covers like Mars Attacks trading cards!
· Insanely cool incentive covers on all five issues!
– The Comic Book Critic