R.I.P.D.: City of the Damned #1 Preview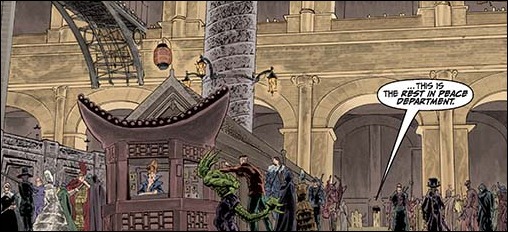 In July 2013, Dark Horse Entertainment is releasing their next summer blockbuster film – R.I.P.D. (or Rest In Peace Department).
This ghostly buddy cop story will star Jeff Bridges, Ryan Reynolds, and Kevin Bacon and was created by Peter Lenkov, who was also responsible for Hawaii Five-O & Demolition Man.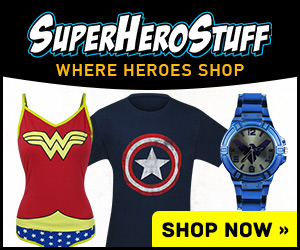 On November 28th, 2012, Dark Horse Comics releases a new series, R.I.P.D.: City of the Damned, which serves as a prequel for the upcoming summer film.
Here is a 6 page preview of R.I.P.D.: City of the Damned #1, by Jeremy Barlow & Tony Parker, from Dark Horse Comics.
R.I.P.D.: CITY OF THE DAMNED #1
Roy Pulsipher and Nick Walker are dead, but that doesn't mean their time in law enforcement is over. Both Roy and Nick are officers in the Rest in Peace Department, sworn to serve the Almighty and protect the living from evil's foul corruption. Their current case has them chasing a ghostly fanatic determined to undo all of creation—a threat with very personal connections to Roy's past, stretching back a hundred years into a weird, Wild West and Roy's first day on the job. It's a twisted history that Nick is only starting to uncover, and one that could have him reconsidering ever joining the R.I.P.D.!
* Prequel to the upcoming feature film starring Ryan Reynolds and Jeff Bridges!
Cowboys versus demons in the Wild West!
* The return of the hit series by Peter M. Lenkov (HawaiiFive-O, Demolition Man).
* Written by Jeremy Barlow (Dethklok) and drawn by Tony Parker (Do Androids Dream of Electric Sheep?)
Creators: Peter Lenkov
Writer: Jeremy Barlow
Artist: Tony Parker
Cover Artist: Dave Wilkins
Genre: Horror, Action/Adventure
Publication Date: November 28, 2012
Format: FC, 32 pages
Price: $3.50
UPC: 7 61568 21229 7 00111
Pre-order R.I.P.D.: City of the Damned #1 from: Things From Another World
– The Comic Book Critic