Planet of the Apes Special #1 Preview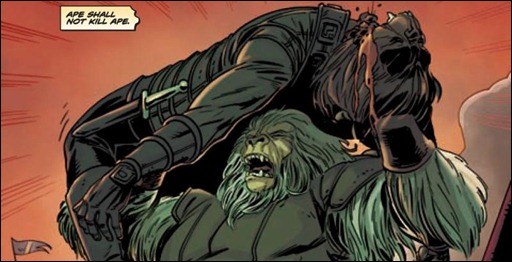 Here is your first look at Planet of the Apes Special #1, by writer Daryl Gregory & artist Diego Barreto, on sale February 13th, 2013 from Boom! Studios.
Planet of the Apes Special #1
Written by Daryl Gregory
Drawn by Diego Barreto
SC, 32pgs, FC, SRP: $4.99
Diamond Code: DEC12 0909
Daryl Gregory returns to the PLANET OF THE APES in this epic over-sized issue, featuring fan-favorite artist Diego Barreto (IRREDEEMABLE) throughout 32 pages of new story and art! It's the return of what Jason Aaron (SCALPED, WOLVERINE AND THE X-MEN) called: "The best PLANET OF THE APES comic ever. And one of my favorite comics of the year, period." When the Lawgiver was assassinated by a human, Ape City fell into a vicious civil war. Ten years have passed since the horrific violence and a fragile peace is emerging. Voice Alaya has been deposed and awaits sentencing in Ape City's prison.
Meanwhile, Sully has begun to rally forces, both human and ape. Little do they know they're both on a collision course towards an even greater danger…
– The Comic Book Critic