Preview: Protectors, Inc. #2 by Straczynski, Purcell, and Atiyeh
Preview of Protectors, Inc. #2 (Image)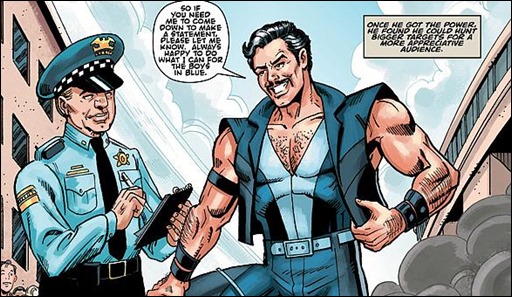 Here's a preview of Protectors, Inc. #2 by writer J. Michael Straczynski and artists Gordon Purcell and Mike Atiyeh, courtesy of Image Comics – on sale December 11th, 2013.
PROTECTORS, INC. #2
written J. MICHAEL STRACZYNSKI
art GORDON PURCELL & MIKE ATIYEH
cover a GORDON PURCELL & MIKE ATIYEH
cover b RENAE DE LIZ & RAY DILLION
DECEMBER 11
32 PAGES / FC / M
$2.99
An unexplained local disappearance, a corpse that lands several hundred miles from the scene of the crime, and the very first death of one of the Protectors…what do these three seemingly unrelated incidents have in common? And why is Protectors, Inc. so determined to whitewash the possibility that the super-powered hero was murdered? Lieutenant Detective Riley may be the only one who really wants to discover the truth.
– The Comic Book Critic