Preview of Ragnarök #1 (IDW)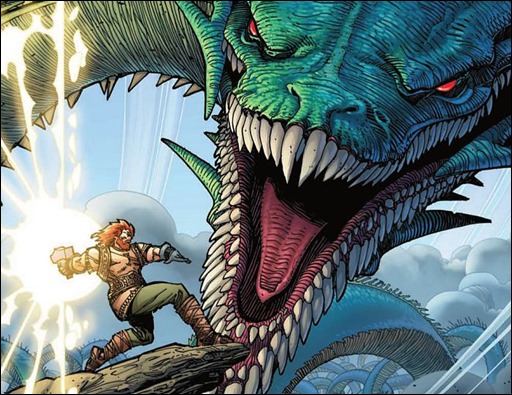 Here's a preview of Ragnarök #1, the long anticipated Norse Epic written and illustrated by Walter Simonson with colors by Laura Martin & lettering by long-time collaborator John Workman – on sale July 23rd, 2014 from IDW Publishing.
Ragnarök #1
Walter Simonson (w & a & c)
Ragnarök…the Twilight of the Gods in Norse mythology…the destruction of the Nine Worlds.  And now, three hundred years later, the birth of vengeance.
Walter Simonson returns to comics in a BIG way with an all-new series… and doing what he does best!!
My wife and my children are dead. My brothers and sisters are dead.
My parents are dead. The Great Enemies still live.
But I swear on the shattered bones of my kinsmen… they will not live forever.
I shall become… the storm.
Walter Simonson is one of the most acclaimed and respected creators in comics. He has done defining runs on Thor, Manhunter, Star Slammers, Elric, Orion and more. Now, in his first creator-owned series in 20 years, he brings his tremendous artistic arsenal to a brand new world… the twilight world of Ragnarök!
FC • 32 pages • $3.99
– The Comic Book Critic