Shanghai Red #1 Preview (Image)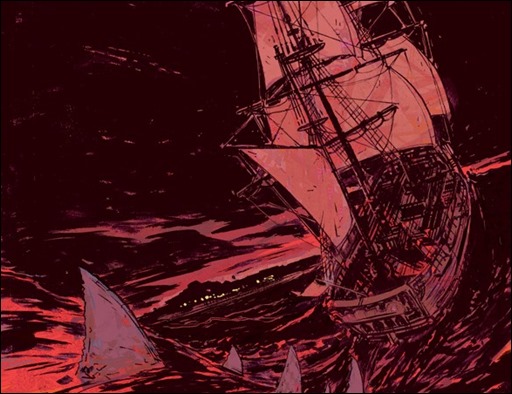 Here's a 6-page preview of Shanghai Red #1 by writer Christopher Sebela and artists Joshua Hixson & Hassan Otsmane-Elhaou, on sale June 20th, 2018 from Image Comics.
SHANGHAI RED #1
Writer: Christopher Sebela
Artist / Cover: Joshua Hixson, Hassan Otsmane-Elhaou
Variant Cover: Tyler Boss
Red is one of hundreds shanghaied out of Portland in the late 1800s. Drugged, kidnapped, and sold to a ship's captain, she wakes up on a boat headed out to sea for years, unable to escape or even reveal who she truly is. Now she's coming back in a boat covered in blood to find her family and track down the men responsible for stealing her life out from under her.
Eisner-nominated writer CHRISTOPHER SEBELA (High Crimes, Heartthrob, We(l)come Back), JOSHUA HIXSON (The Black Woods) and HASSAN OTSMANE-ELHAOU (Felix & Macabber) bring you a tale of revenge, family, and identity that stretches from the deck of a ship outside Shanghai all the way to the bleak streets and secret tunnels of Portland, Oregon.
U.S. Cover Price: $3.99
Published: June 20, 2018
Diamond ID: APR180478
Age Rating: T+