Preview of Sinister Dexter #1 (IDW)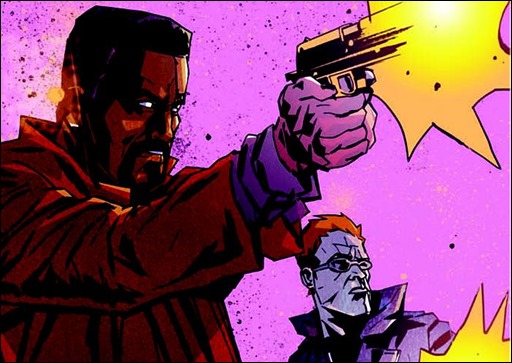 Here's a preview of Sinister Dexter #1 by writer Dan Abnett and artist Andy Clarke, courtesy of IDW Publishing – on sale December 11th, 2013
Sinister Dexter #1 (of 7)
Dan Abnett (w) • Andy Clarke (a) • Antonio Fuso (c)
The popular sci-fi strip makes its way to our shores! Finn and Ramone in two classic 2000 AD stories! First is "Money Shots," which sees the two gunsharks crashing the set of an adult movie in order to carry out a hit on a target that may be happier to see them than they expected! Second is "Point Blanc." The duo is recruited to take out a narc boss who owns extreme firepower. Is their mystery employer out for more than control of Downlode's heavy-duty killware?
FC • 32 pages • $3.99
Bullet points:
· The smash-hit 2000AD series arrives on our shores!
· By fan-favorite creators Dan Abnett and Andy Clarke!
· All-new covers by acclaimed Cobra artist Antonio Fuso!
– The Comic Book Critic