The Army of Doctor Moreau TPB Preview (IDW)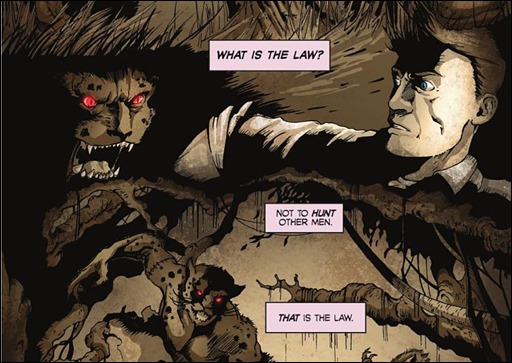 Here's a five page preview of The Army of Doctor Moreau, a 128 page trade paperback by writer David F. Walker and artist Carl Sciacchitano, on sale April 15th, 2015 from IDW Publishing.
The Army of Doctor Moreau
David F. Walker (w) • Carl Sciacchitano (a & c)
On an uncharted island in the South Pacific, Nazis have uncovered the secret of transforming animals into a human-like army of killers. A team of British and American operatives is sent on a search and destroy mission. The team quickly find themselves in a nightmarish war with savage animals that think they are men.
TPB • FC • $19.99 • 128 pages • ISBN: 978-1-63140-239-5
Bullet points: 
· "Very interesting and thought provoking questions are raised about Moreau's work and about his creations." –EntertainmentFuse.com