First Look at The Movement #1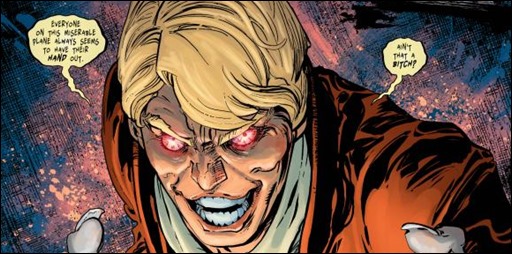 Here we have a preview of The Movement #1, written by Gail Simone and illustrated by Freddie E. Williams II, featuring a cover by Amanda Conner courtesy of DC Entertainment.
The Movement #1 is available on May 1st, 2013 from DC Comics.
Press Release
This week sees the launch of the eagerly anticipated and all-new ongoing monthly series THE MOVEMENT. Set in Coral City, THE MOVEMENT centers around a group of young people with extraordinary abilities, who take matters of justice into their own hands after the corrupt local police department is exposed. But how will the rest of the world react to these teens? And with so much power at their disposal, can they really be trusted to work towards a greater good?
THE MOVEMENT #1 comes to you from writer Gail Simone (BATGIRL; SECRET SIX) and artist Freddie Williams II (CAPTAIN ATOM; GREEN ARROW).
We are faceless. We are limitless. We see all. And we do not forgive.
Who defends the powerless against the GREEDY and the CORRUPT? Who protects the homeless and poverty-stricken from those who would PREY upon them in the DARK OF NIGHT?
When those who are sworn to protect us abuse their power, when toxic government calls down super-human lackeys to force order upon the populace…finally, there is a force, a citizen's army, to push order BACK.
Let those who abuse the system know this as well: We have our OWN super humans now. They are not afraid of your badges or Leagues. And they will not be SILENCED.
We are your neighbors. We are your co-workers. And we are your children.
– The Comic Book Critic