13-Page Preview of THE STANDARD #1
from ComixTribe!
The Critically Acclaimed, Award Winning Series Makes it's World-wide Debut in January 2013!
We're proud to present a 13 page preview of The Standard #1, by John Lees & Jonathan Rector, on sale in January 2013 from our friends at ComixTribe.
Press release
ComixTribe has released an 13-page preview of the Diamond debut issue of THE STANDARD #1. THE STANDARD is an award-winning series created by Scottish scribe John Lees (Best Writer – Scottish Independent Comics Awards 2012) with art by Jonathan Rector. Until now, THE STANDARD has only been available at conventions, via mail order, and digitally. Earlier this year, ComixTribe signed a distribution deal with Diamond Comics Distributors, Inc. to bring its books to shops worldwide. The Diamond release of THE STANDARD #1 (NOV121047) features a stunning new cover, and will be available in shops January 2013.
Over 40 years ago, scientist Gilbert Graham became The Standard, the world's first superhero. When he retired, Alex Thomas – formerly his sidekick, Fabu-Lad – took on the mantle in his place, transforming The Standard from superhero to celebrity. Now, a young girl is missing, and Alex has promised to find her. Can he become a hero once more? Or does fate have other plans for The Standard? THE STANDARD is a six-issue mini-series that will release bi-monthly.
THE STANDARD #1 (of 6)
PRICE: 3.99
DIAMOND ID: NOV121047 F STANDARD #1 (OF 6) (MR)
RATING: Teen + Up
FORMAT: 32 pages, color (1 of 6 mini-series)
WRITER: John Lees
ARTIST: Jonathan Rector
COLORISTS: Ray Dillon, Mo James
LETTERER: Kel Nuttall
EDITOR: Steven Forbes
PUBLISHER: ComixTribe
COPYRIGHT INFO: © John Lees
THE STANDARD is the story of two different men from two different eras who share the same heroic legacy. In the past, The Standard was the world's greatest superhero. Today, he is a celebrity with his own reality TV show. But when a catastrophic event brings the two generations into collision, The Standard is forced to ask if superheroes still have a place in today's cynical world. THE STANDARD is a six-part superhero miniseries written by John Lees and drawn by Jonathan Rector.
ORDER THE STANDARD #1 FROM YOUR LOCAL RETAILER!
Get THE STANDARD #1 from your local comic shop! Find a comic shop near you!
Diamond ID: NOV121047
PRE-ORDER!
Step One: Click to download this THE STANDARD #1 Pre-Order Form!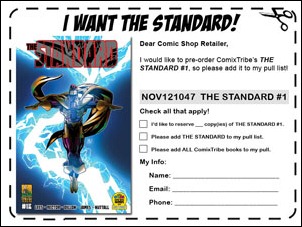 Step Two: Print it out on your laser or inkjet printer! That's right, kill evil trees…USE PAPER!
Step Three: Locate your nearest comic shop! (Use this comic shop locator if need be!)
Step Four: Hand the Pre-Order Form to the retailer!
Step Five: Return to the shop in January and pick up THE STANDARD #1!
– The Comic Book Critic