Unity #7 Preview (Valiant)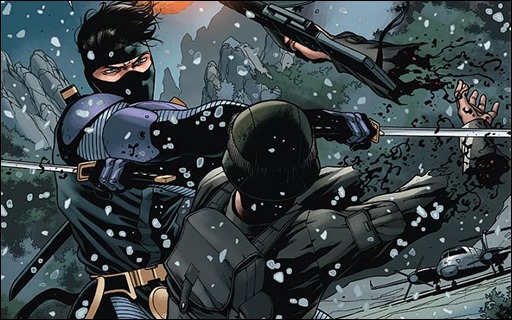 Here's a preview of Unity #7, the "Trapped By Webnet" finale, by writer Matt Kindt & artist CAFU, courtesy of Valiant Comics – on sale May 21st, 2014.
UNITY #7 ("TRAPPED BY WEBNET" – FINALE)
Written by MATT KINDT
Art by CAFU
Cover by TREVOR HAIRSINE (MAR141411)
Variant Cover by RAUL ALLEN (MAR141412)
Variant Cover by DAVE BULLOCK (MAR141413)
The final deathtrap of Dr. Silk!
Ninjak's ultimate enemy has drawn his web tight around X-O Manowar and the rest of Valiant's unbreakable all-star superteam…and now they're about to find out how the globe's most brilliantly depraved mind doles out revenge. "Trapped by Webnet" cuts to an action-packed conclusion…and no one will escape Dr. Silk's grasp unscathed!
$3.99/T+/32 pgs.
ON SALE 5/21/14 (FOC – 4/28/14)
– The Comic Book Critic