White Trash Graphic Novel Preview (Titan)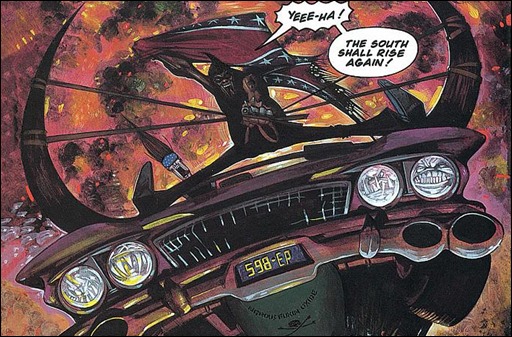 Surfer dude Dean and his rock & roll buddy The King, drive their pink Cadillac through the white supremacist underbelly of the United States in a one-of-a-kind road buddy comic.
Here's your first look at White Trash, a graphic novel by writer Gordon Rennie and artist Martin Emond, on sale April 8th, 2015 from Titan Comics.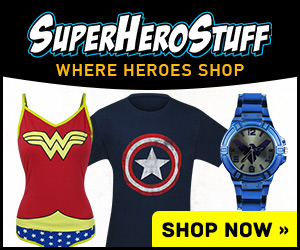 WHITE TRASH (GN)
WRITER: Gordon Rennie
ARTISTS: Martin Emond
Lock, load and buckle up for the greatest road buddy comic ever conceived!
Join slacker surfer dude Dean and The King, legendary gold-laméd rock'n'roller, as they take their pink Cadillac into the soft, white supremacist, Evangelical brimstone underbelly of the good ol' US of A!
From legendary writer Gordon Rennie (Judge Dredd, Rogue Trooper, Necronauts) and the late-great Martin Emond (Accident Man, Lobo), White Trash is a riotous, rock and roll odyssey that blends the best bits of "Welcome To The Jungle", "Deliverance" and "Fear & Loathing In Las Vegas" and blasts them into overdrive!
Cram-packed with moronic humor, madcap violence and glorious painted illustration, don't miss out on this one-of-a-kind slice of anarchic Americana!
White Trash hits comic stores on April 8, 2015 and is available to pre-order now using Diamond code DEC141681​.​
FORMAT: 128 pages, HC, FC, 6.625 x 10.25
PUBLISHER: Titan Comics
PRICE: $19.99/$22.95 CAN/£14.99 UK
ISBN: 9781781168219
RELEASE DATE: April 08, 2015
ORDER CODE: DEC141681
– The Comic Book Critic