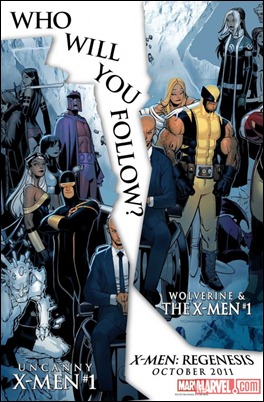 After the events of X-Men: Schism, the X-Men are forced to split and choose two paths. Wolverine & The X-Men #1 will be published in October 2011, while Uncanny X-Men #1 will follow in November 2011.
Written by current Wolverine scribe Jason Aaron, Wolverine & The X-Men will be joined by artist Chris Bachalo. Jason tells Marvel.com:
"WOLVERINE & THE X-MEN will have everything I love about the X-Men, big crazy plots, intense character drama, love, sex, anti-mutant hysteria, man-eating aliens, all-new characters, old favorite characters, bizarre space tech, strange transformations, property damage, telepathic shenanigans, Wolverine drinking whiskey, mutants playing baseball. Except perhaps for that last part."
On the other side, Kieron Gillen will continue his X-Men duties on the new Uncanny X-Men title along with artists Greg Land and Carlos Pacheco. Being at odds with each other, both X-Men groups are completely different, having different members, agendas, and even headquarters. Kieron describes it as:
"To use a word, it'd be 'pugnacious. It's an X-Men team in public, operating on a scale we've never seen them act on before. Traditionally, the X-Men have mainly been about problems coming to mutantkind. They fight against foes who want mutants gone; the problem being [that] those victories just maintain mutantkind."

"Over the last few years—mainly in the adjectiveless X-MEN book—we've seen the X-Men try and act more like super heroes. The idea being, we act like super heroes, maybe people will start feeling better about us. And it's worked a bit; they're certainly not hated in San Francisco as much as most of the world, but that's a town. That's region-based heroism. To change the world, they have to act on a world scale. That's what they're trying to do. UNCANNY X-MEN is the team aspiring to be the world's premier super team and everything that goes along with it."
Read more about X-Men: ReGenesis at Marvel.com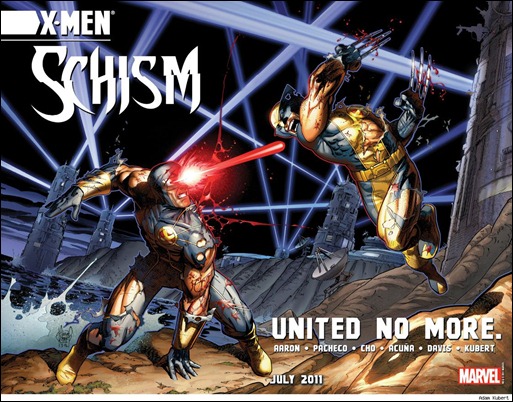 Press Release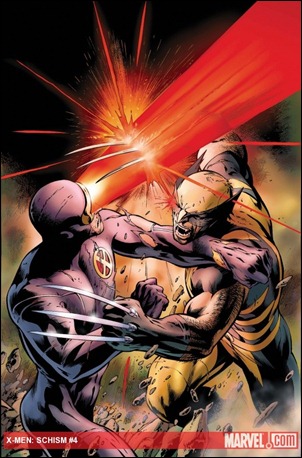 After Schism Comes X-MEN: REGENESIS!

New York-June 16, 2011-Marvel is pleased to announce X-Men: ReGenesis, a bold new direction redefining the X-Men franchise! X-Men: ReGenesis kicks off this fall in Uncanny X-Men #1 & Wolverine and the X-Men #1 and its ramifications will send shockwaves throughout every X-Book and the Marvel Universe! Prepare for the X-Men's new dawn as former allies head off in different directions, taking with them your favorite X-Men characters. Following the unforgettable outcome in X-Men: Schism, mutantkind will be asking one another "Who will you follow?" and their answers may surprise you! Never before have there been TWO teams calling themselves the X-Men and never has anyone had to choose a side. Guided by their different ideologies, each leader has their own mission for saving their species, but is only one of them right?

This October, Marvel Architect Jason Aaron and superstar artist Chris Bachalo launch Wolverine And The X-Men #1, assembling a team led by Logan himself with a line-up that nobody will see coming. Then, in November, history is made with Uncanny X-Men #1. From the superstar writer Kieron Gillen and artists Carlos Pacheco & Greg Land, new leadership rises with a renewed, refocused, and re-imagined group of Uncanny mutants.

"Years of X-Men history have been leading to this. X-Men: ReGenesis will affect our entire line leading up to a major conflict coming up in 2012!" said Marvel Editor in Chief, Axel Alonso. "This is just the start of what we have planned for the X-Men. Next summer all eyes will be on mutantkind – we guarantee it!"

Two new teams lead mutantkind into an all new era and will have everyone asking "Who will you follow?" – only in Wolverine & The X-Men #1 and Uncanny X-Men #1!
To find out more about X-Men: Regenesis, head over to Marvel.com!