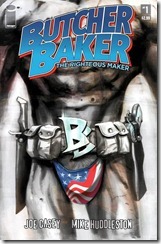 Writer: Joe Casey
Artist: Mike Huddleston
Colorist: Mike Huddleston
Letterer: Rus Wooten
Logo & Graphic Design: Sonia Harris
Publisher: Image Comics
Cover Date: March 2011
Cover Price: $2.99
Butcher Baker enjoys the finer points of life; women, booze, relaxing, sex, more women, even more sex, a bit more booze… did I mention women & sex? He knows what he likes and expects it all the time. What else is a retired, over-the-hill superhero supposed to do anyway?
Unfortunately it doesn't last long when the government sends in two of their own to coax Butcher Baker out of retirement for another mission. With 'incentive' in tow, Dick Cheney and Jay Leno hope to convince him to take the offer. You read that right; Dick Cheney and Jay Leno!
While initially his look brings back memories of Pat Mills and Kevin O'Neill's Marshal Law, Butcher Baker, The Righteous Maker embodies it's own unique flavor. The violence is ingrained in the character, but he's more than just that. Being that it's also a Mature Audiences book so you can expect a lot more than just the violence aspect. The writing is funny and very tongue-in-cheek and the art style and coloring fit the book just right.
If you like your comics brimming with sex, violence, drugs, comedy, intrigue, and explosions you've hit the jackpot. This book is a fun over-the-top read from front to back. I'm looking forward to the next issue from Joe Casey and Mike Huddleston.
– The Comic Book Critic
Comic Book Critic Rating: 7.0