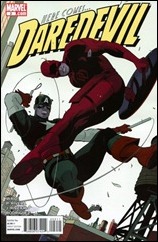 Writer: Mark Waid
Penciler: Paolo Rivera
Inker: Joe Rivera
Colors: Javier Rodriguez
Letterer: Joe Caramagna
Editor: Ellie Pyle, Stephen Wacker
Publisher: Marvel Comics
Cover Date: October 2011
Cover Price: $2.99
Title: "Red, White, Black and Blue"
The current incarnation of Daredevil by Mark Waid and Paolo Rivera has something that readers have long missed from the title – it's fun to read. Gone are the tragedies that befall Matt Murdock at every turn and the deep clawed monkeys that cling to his back. This version of Murdock/Daredevil is not about what happens in his life, but how he can help others.
The story opens with a fight between Daredevil and Captain America, as Cap tries to bring in Daredevil to answer for what he's done in the past. The fight sequence is classic Daredevil and Paolo Rivera's artwork, flowing from panel to panel, hearkens back to what I loved about the character.
A great twist in the battle is employed when they grab each other's thrown weapon and fight with it – Cap wielding DD's billy club and Daredevil using Cap's shield – both of them skillfully using the other's weapon as if it were their own. There's a great quote by DD at the end of the fight: "That thing is beautifully balanced… It's like touching a Stradivarius. High Point of my evening."
As Daredevil tries to find out what's so important about the Ahmed Jobrani case that is causing so many problems, Foggy Nelson finds out some information himself. This time it's from the assistant D.A. who has a 'fondness' for the attorney.
DD talks to famed attorney, Gene Loren, who he learns was pressured not to take the case, and discovers a lead that might help him find out what's really going on. Acting on the info, Daredevil enters the Jobrani property and discovers something strange in the basement – Klaw! Well… several Klaws that seem to be made of energy and that are partially there. He's interrupted them as they were assembling something.
Rivera's artwork is just perfect for this Daredevil and I especially like his take on what you 'see' through the eyes of DD using his sonar sense. Along with the wonderful dialog and scripting by Mark Waid, the first two issues of this revamped character were better than I had expected.
This is one of those titles that completely surprised me by how good it is. Mark Waid has made this series into one that goes directly on top of my reading pile!
– The Comic Book Critic
Comic Book Critic Rating: 9.0