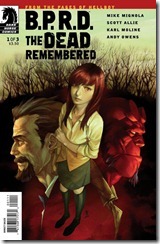 Story: Mike Mignola, Scott Allie
Pencils: Karl Moline
Inks: Andy Owens
Letters: Clem Robins
Colors: Dave Stewart
Cover: Jo Chen
Designer: Amy Arendts
Editor: Daniel Chabon, Samantha Robertson, Scott Allie
Publisher: Dark Horse Comics
Cover Date: April 2011
Cover Price: $3.50
In 1976, Trevor from the Bureau for Paranormal Research and Defense decides to investigate a haunting in Massachusetts. Hellboy, not keen on ghosts, suggests that he take Liz Sherman along with him on his road trip; she's been at the B.P.R.D. for a long time without being able to go anywhere. Before she leaves, Hellboy gives her a St. Christopher's medal to keep her safe on the trip.
Along the way, she takes her pills out of her bag and pretends to hide them in the car, but Trevor notices this when they get out and sneaks it back into her bag. Those pills keep liz' pyrokinesis in check. Upon their arrival, they are greeted by Trevor's friend Father Yafides who summoned his help with the haunting.
Father Yafides goes on to tell them the story of Anne Whittier who was accused of witchcraft by Henry Hood in 17th century England. Hood executed hundreds of men, women, and children – most of whom were innocent. Anne's parents fled to America along with her, where later she married and had children. But when the hysteria reached Massachusetts, someone remembered Anne's accusal and a mob of ruffians killed her burning her house to the ground in the process. The house that is currently haunted was built on that very same property.
After the strange occurrence of a fireball from the fireplace, Trevor send Liz outside for some fresh air. There she meets a young lad who is helping his father do construction on the house. They wander into the woods where they see a scary sight.
Mike Mignola and Scott Allie's story is very well written and has a nice steady pace to it. This is has all the makings of a classic ghost story, but since it's a B.P.R.D. story, I'm sure there's a twist somewhere in this three part series. Karl Moline does a bang up job on the artwork as well. Until I read this issue, I hadn't picked up a B.P.R.D. book in quite some time and fortunately it still holds up to the stories I was used to reading.
– The Comic Book Critic
Comic Book Critic Rating: 6.5