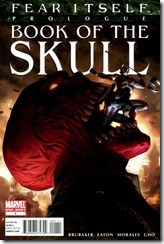 Writer: Ed Brubaker
Pencillers: Scot Eaton
Inkers: Mark Morales
Colorist: Sunny Gho
Letterer: Joe Caramagna
Cover: Marko Djurdjevic
Associate editor: Lauren Sankovitch
Editor: Tom Brevoort
Marvel Comics – May 2011 – $3.99
This book is the prologue to "Fear Itself", Marvel Comics' big summer 'event' of 2011. It begins with Baron Zemo helping Sin recover a relic from her father's past – A secret tome bound in Atlantean flesh that contains the Red Skull's greatest failure. While the current storyline is being told, we're shown a flashback of what happened in the past with The Red Skull summoning a great power to aid him in his victory over the Allies in WWII. Meanwhile Cap, Bucky, and the Submariner find out about the Red Skull's plan and try to stop him before it's too late.
Zemo is just repaying a debt to Sin by helping her and realizes that she's as crazy and maniacal has her father, if not more so, and just wants to be done with it as quickly as possible. The character interactions and dispositions are perfect as Brubaker is very familiar with the people he's writing. Ed Brubaker does a wonderful job giving us a World War II story with Captain America, Bucky, and Namor, alternating the storytelling from present to past with ease. While a good portion of any actual plot is told in the past, it makes for a really good Invaders tale. Like most prologues that I've read in the last few years, it doesn't really offer much of what's coming up in the event, but serves as a general teaser to get people to follow the rest of the event. Luckily this doesn't undermine the writing in the book.
Scot Eaton and Mark Morales do a good job at pencilling and inking the book. The layouts and movement of the story seem to flow effortlessly along. Sunny Gho does a great job at coloring, helping set the tone of the scenes as much as the artists did. It's always a pleasant experience when you notice the colorist doing a good job because oftentimes when a colorist stands out, it's when they do a bad job.
I really enjoyed this prologue even though it didn't offer up much in the way of what's coming up in "Fear Itself" save for a few teasers.
– The Comic Book Critic
Comic Book Critic Rating: 8.0