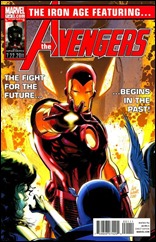 Writer: Christos N. Cage, Rob Williams
Art: Lee Weeks (p), Tom Palmer (i), Ben Oliver
Colors: Matt Hollingsworth, Veronica Gandini
Letters: Jared K. Fletcher
Cover: Lee Weeks, Dan Brown, Joe Jusko
Editor: Thomas Brennan
Publisher: Marvel Comics
Cover Price: $4.99
Cover Date: August 2011
Story Title: A Little Help From My Friends / Panic On The Streets Of London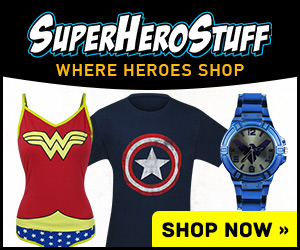 The Iron Age #1 starts a three issue mini series that has Tony Stark travelling back through time to save the world in the future. He needs to gather pieces of Doctor Doom's Time Platform in order to return to the future – to save the destruction of the world by the Dark Phoenix.
This double sized issue is broken down into 2 full length stylistically different (both in the narrative and art), yet related stories.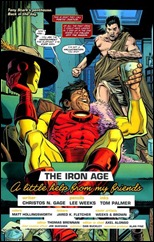 A Little Help From My Friends is written by Christos Gage with art by Lee Weeks and Tom Palmer. Iron Man lands at a time when he's at the lowest point in his career – failing as a hero and at the height of his drinking problem. He tries to enlist the help of the Avengers, who consist of She-Hulk, Captain America, Thor, Wasp, Hawkeye, Captain Marvel (Monica Rambeau), and new trainee Starfox. This happens to be right around the events of Avengers #232 (1983) since Hawkeye has a broken leg and Starfox was brought in to temporarily replace him. Having read those Avengers issues in the past, the art and dialog of the old books were captured quite well. It brought back some fond memories of those old stories.
Things don't go as smoothly as Stark would have liked, so he goes to his friend Henry Pym as a last resort. After a very awkward encounter, Pym agrees to help Stark – Even though the Stark of his time seduced his wife, Janet aka The Wasp, less than a month after their divorce while Henry was in jail. (There was a lot of drama going on in the 80's!)
Sporadically in the story, Stark tries to explain what drove him to where he was and regrets the things he did during that time. He's also amazed at how good of a team The Avengers were back then.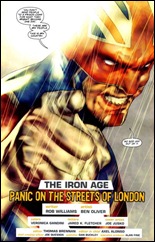 Panic On The Streets of London written by Rob Williams and art by Ben Oliver and Veronica Gandini has a much darker narrative and a bold painted look to it. The feel is distinctly different from the first full length story.
James Jaspers has called for all mutants to regulated and rounded up in England. Agents of S.T.R.I.K.E. (UK's version of S.H.I.E.L.D.), under the command of Vixen, are rounding up mutants in the streets of London when Captain Britain shows up to help the innocent citizens. He mistakes Iron Man for one of them and accidentally destroys his homing device, which allows Stark to travel to the next Platform piece.
He manages to fix it and locate the other piece in this timeline – it's inside S.T.R.I.K.E. Headquarters. Managing to infiltrate the secure location, he not only finds the piece, but finds something wholly unexpected – Donald Birch, the man who brought the destruction upon the Earth!
The Captain Britain tale has more moralistic overtones than the Avengers story, both for Stark and for Captain Britain himself. While both stories were good on their own, the second one had a deeper resonance to it. Five dollars for a comic is stretching it a bit, but we do get two solid stories out of the double sized issue.
– The Comic Book Critic
Comic Book Critic Rating: 7.5