Kick-Ass 3 #1 Review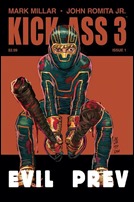 Writer & co-creator: Mark Millar
Pencils & co-creator: John Romita Jr.
Inks & washes: Tom Palmer
Colors: Dean White
Letters: Chris Eliopoulos
Editor: Jennifer Lee
Publisher: Marvel Comics
Cover Date: July 2013
Cover Price: $2.99
Kick-Ass 3 has arrived and brings to a close the saga of Dave Lizewski that Mark Millar & John Romita, Jr. began with the first series.
The story begins with Hit Girl being imprisoned but leaving Dave and his buddies the resources and detailed directions of how to spring her. All they need to do is go through with it. On top of that, Dave has to deal with all the headache of running a gang of superheroes who don't always do what's expected of them.
The story has all the trademark Millar writing we've all come to expect – profanity and dark humor. I found myself laughing at many sequences that I questioned whether it was right thing to do. Millar is a master at punctuating the absurdity in the mundane.
Certain actions that we take for granted in comics, like turning out the lights during an entrance or just visiting your parents' grave, are thrown at us like a curveball by Millar. I didn't think that I'd be laughing at a one page sequence at Dave's parents' grave, but I surely did – all the while shaking my head.
The art is exactly what we've come to expect. Whenever I think about Kick-Ass, I usually envision John Romita, Jr.'s art as opposed to the movie the series spawned. His visuals are as much a part of the series as Millar's writing, and they complement each other so well.
One thing that was noticeable in the first issue was the lack of violence that we've all come to expect. Oh, we all know it's coming – it's inevitable. And when it does come, It will probably be a spectacular, no-holds-barred bloodfest. What else would we expect from the last series in the story?
This was an excellent start to the end of a saga that began several years ago, and I'm excited to see how it all plays out.
– The Comic Book Critic

Kick-Ass 3 #1 (of 8) – $2.39
Retail Price: $2.99
You Save: $0.60