Review: Snow Angel Graphic Novel (Arcana Comics)
on
April 10, 2011
and modified on May 21, 2011.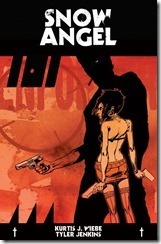 Writer: Kurtis J. Wiebe
Artist: Tyler Jenkins
Publisher: Arcana Comics
Cover Date: April 2011
Cover Price: $14.95
"On a rain-soaked night in the heart of Bogota, a young girl witnesses a brutal murder by the hand of her father. This was no accident as her father wanted her to see. Snow Angel tells the story of Angela, a little girl growing up in the long shadow of her criminal father, Cesar. What would a child do to win the respect of the most brutal enforcer in the Cali cartel?"
This film noir inspired story starts off in Bogota, Columbia in 1969, but the majority takes place in the crime-ridden streets of 1976 Miami.
While she was young, Cesar decides that he's not going to protect his child from the life he leads. Instead, he will give her the tools to survive the dangerous path he has chosen. Wondering if she was actually the child that her father really had hoped for, Angela wants to do good by him.
Angela constantly tries to win the respect of her father by doing the things that she hopes would make him proud. Although she tries, 'Snow Angel' doesn't always have the experience or smarts to pull it off. That doesn't derail her mission to make her dad proud. But will dad always be there to help her? Why is their relationship so rocky?
Kurtis J. Wiebe has written some great material in a variety of genres. This time he takes a shot at gritty crime noir… and gets another hit. The relationship between Angela, and her father Cesar, is a complex one of love and pride, and Kurtis really makes us part of that conflict. He shows us their character flaws, the mistakes they've made, and the regrets they carry in their hearts and makes us believe in them. Is this a happy story? No. Then again, life isn't a happy story to a lot of people.
Tyler Jenkins does a wonderful job of bringing alive this gritty street story with his distinctive art style. Not only in his pencil and ink work, but in the palette of colors he chooses for this graphic novel. It sets the mood and brings across the dirty and dingy aspects of the story. The intensity of the colors match the action of the story. The only thing missing is the music!
This book wasn't originally solicited in Diamond's Previews but is listed as an April 27th, 2011 release. I'm not sure if that's a firm date or not. I suggest you call your local comic book retailer and put in a preorder for the Snow Angel Graphic Novel from Arcana Comics. At $14.95 for 100 pages, it's well worth the investment.
- The Comic Book Critic
Comic Book Critic Rating: 8.0