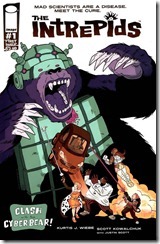 Writer: Kurtis J. Wiebe
Penciller: Scott Kowalchuk
Inker: Scott Kowalchuk
Colorist: Justin Scott
Letterer: Frank Zigarelli
Cover: Scott Kowalchuk
Image Comics – February 2011 – $2.99
There's something about this book that made me want to pick it up and read it… oh yeah, a cover that depicts four people attacking a huge cybernetic bear. The cover blurb didn't hurt either: "Mad Scientists are a Disease. Meet the Cure. THE INTREPIDS".
The story follows the four characters – Rose, Doyle, Chester, and Ms. Crow, along with their mentor Dante. Dante had chosen four kids and took them from a life of misery and despair. He gave them training and augmented their bodies to turn them into who they are today: His army to take down mad scientists intent on using ideas and devices for evil purposes.
Each member of The Intrepids fits a distinctive role within the group: Doyle is the muscle, Ms. Crow is the leader/sharpshooter, Chester is the Tech guy, and Rose is the spy/assassin. All the characters interact beautifully due to the writing of Kurtis J. Wiebe and artistry of Scott Kowalchuk.
Scott's artwork reminds me a lot of a blend of Tim Sale, Mike Oeming, David Lapham, and Alex Toth. It works very well with the story, which is both entertaining and intriguing. Kurtis gives you just enough backstory to keep you wanting more. Did Dante choose the kids at random? Did the augmentation they received age them immediately? Does he have an ulterior motive? Questions like these pull in the reader and make them want more, month after month.
The Intrepids has an X-Men meets the Fantastic Four vibe to it, and I don't mean that in a bad way. It's a fun read and contains a lot of story for your $2.99, something you can't say about a lot of comic books nowadays. This is one book you should have on your monthly pull list!
– The Comic Book Critic
Comic Book Critic Rating: 9.0