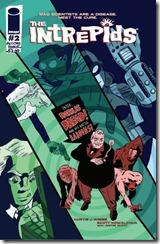 Writer: Kurtis J. Wiebe
Artist: Scott Kowalchuk
Colorist: Justin Scott
Letterer: Ariana Maher
Cover: Scott Kowalchuk
Image Comics – April 2011 – $2.99
After being treated to a gigantic cybernetic bear in the last issue, what was in store for me in the second installment? Well that would be Darius Dread and his battle baboons, who wield metal meat tenderizing mallets and frying pans, of course! And it wouldn't be complete without Chester doing an impression of Dr. Zachary Smith from Lost in Space.
In "Oh, Darius Dread, You Kill Me!", you'll have the pleasure of joining The Intrepids in a tea party with a former mad scientist surrounded by his sometimes naughty baboon guards, while they try to get information on the location of Dr. Koi in order to stop his evil plans. But first they must get to Jonah! Who is Jonah? You'll have to wait until the third installment of this series to find out!
If you liked the first issue of The Intrepids, you won't be dissapointed in this one! While the artwork is just as great as the previous issue, I found the dialog to be wittier and snappier than the first. This is by no means diminishing the former, it just seems that Kurtis Wiebe and the characters are hitting their groove.
This book gave me the feeling it could have easily fit into the X-Force run by Peter Milligan and Michael Allred. That was a fantastic run on a book and this had the same vibe; A rather unlikely setting, lively banter, and fun all around. If this keeps up, Kurtis and Scott will have a bona fide hit on their hands. I personally think they already do.
– The Comic Book Critic
Comic Book Critic Rating: 8.5