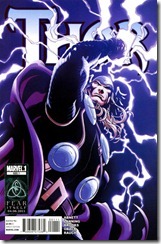 Writer: Andy Lanning, Dan Abnett
Penciller: Mark Brooks
Inker: Mark Brooks
Letterer: Joe Sabino
Colorist: John Rauch, Sonia Oback
Cover: Ed McGuinness
Editor: Ralph Macchio, Charlie Beckerman
Marvel Comics – May 2011 – $2.99
This issue of Thor has a strange numbering system since it's part of Marvel's POINT ONE initiative. According to Marvel, it's "geared for new and long-time readers alike. (It) delivers the perfect jumping on points for the biggest super hero series in the world! Beginning in February 2011, select Marvel comic series marked with a ".1" after the issue number feature full-length, self-contained stories by Marvel's top creators, laying the groundwork for the next year of storylines." So I figured I'd jump right in.
The story starts off with deliveries of food and beverages to Asgard, which happens to sit right in the middle of Oklahoma, for Thursebolt – The Feast of Thor. The Who's Who of Asgard is in attendance: Volstagg, Hogun, Lady Sif, Fandral, and Balder to name a few. When they begin to celebrate Thor's legacy, The Grey Gargoyle shows up and crashes the party.
Since this is a jumping on point, the story is pretty much straight forward and has no big plot twists. Even though the story ends much the way you'd expect it to, Abnet and Lanning's writing and Mark Brooks' large panel layouts and splash pages don't let the story become boring. I will say though, the font used for the Asgardian speak does get annoying after a while.
The cover by Ed McGuinness is the normal "Look at me, I'm The Mighty Thor with lightning and muscles!" that will catch the eye of a first time reader. Not to diminish his skills as an artist, but this is what Marvel is looking to capitalize on.
While this fits in perfectly with Marvel's initiative for 2011, it doesn't give the long time, or even short time, reader anything new. So most sales of this book will be from new or 'out of the loop' fans.
If Marvel wants to attract new readers to a title at a jumping on point, they should do away with these silly numbering conventions and just put a blurb on the cover stating "START READING NOW". Better yet, bring down the price point on their 22 page $2.99 books when they do this type of event. One of the main problems with current comics is that they are too expensive and this would help get people to at least read a storyline. But that's a topic for another article!
– The Comic Book Critic
Comic Book Critic Rating: 6.5