A New Era Rises – AVENGERS A.I!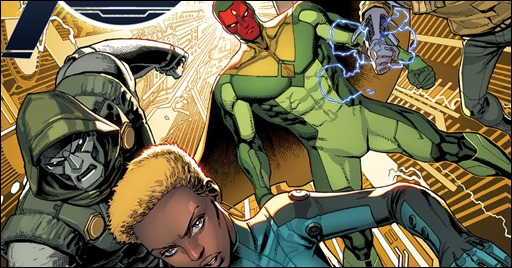 The AGE OF ULTRON is over. The AGE OF A.I. is NOW!
Press Release
This July, red hot writer Sam Humphries (Uncanny X-Force) and artist Andre Araujo (FF), shine an entirely new light on an all-new, all-android Avengers team – Avengers A.I.! Spinning out of the critically acclaimed event Age Of Ultron, Avengers A.I. sends fans deeper into the synthetic core of the Marvel Universe, great for new and lapsed readers alike!
A brave new world is unleashed and only one team of Earth's Mightiest Heroes can save us from the future. Gathered together by Hank Pym, The Vision leads Victor Mancha, Doombot, and the mysterious Alexis in a race to contain an unfathomable Pandora's Box of destruction! And which side will Monica Chang, Agent of S.H.I.E.L.D., find herself on?
Read moreAvengers A.I. #1 Begins A New Era After Age Of Ultron