Spider-Girl vs. INHUMANITY! Your First Look at AVENGERS ASSEMBLE #21!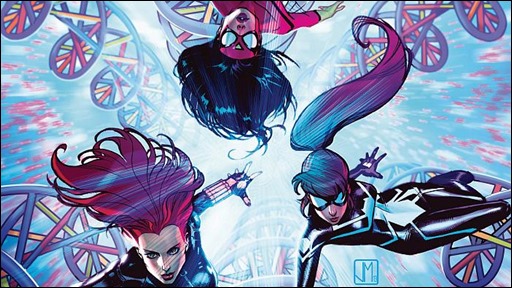 Here's your first look at four pages of Avengers Assemble #21 by writer Kelly Sue DeConnick and artist Matteo Buffagni courtesy of Marvel Comics – on sale November 27th, 2013.
Press Release
Marvel is pleased to present your first look at Avengers Assemble #21, a tie-in to INHUMANITY! From the blockbuster creative team of Kelly-Sue DeConnick and Matteo Buffagni! After the cataclysmic events of INFINITY, countless new Inhumans are emerging. What if these new super-powered beings fell into the wrong hands? Someone is abducting these powerful weapons before they hatch – and it's up to Spider-Girl to find out who! And she's bringing a star-studded cast of Marvel's Mightiest along for the ride.
"While no stranger to the hero game, Spider-Girl is about to enter a whole new league of super antics, the likes of which include (but are not limited to!) Iron Man, the Hulk, and Spider-Woman," says Editor Lauren Sankovitch. "When a team of *personalities* like the Avengers take it upon themselves to 'mentor' Spider-Girl, what could *possibly* go wrong?"
Read moreFirst Look at Avengers Assemble #21 by Kelly Sue DeConnick and Matteo Buffagni